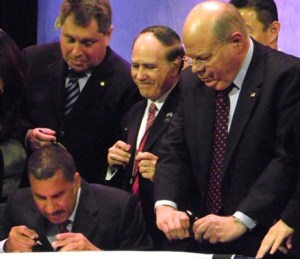 Here's what to watch for when Barack Obama talks tonight about health care.
He might also support a soda tax.
The Democratic State Committee is not as flush or powerful as it once was, or as you might expect.
Representative Anthony Weiner blamed David Paterson for not directing stimulus funds to save Queens hospitals.
Officially, three counties flipped to support Ed Cox for Republican state chairman.
The Jewish Press endorsed Cy Vance, Helen Marshall and Isaac Abraham.
He also attended a fund-raiser for Dan Maffei and Bill Owens at a law firm there.
Dick Iannuzzi got to fly with Biden on Air Force 2.
Pedro Espada is raising money for George Maziarz.
"For Espada, even giving money away becomes a challenge."
Mike McMahon says he is still undecided on health care.
Eliot Spitzer has a ready-declared opponent.
Michael Saul can't believe what Ed Koch said.
Cy Vance writes about counter-terrorism.
Dora Shiro, welcome.
Nick Judd watches Oliver Koppell campaign.
They didn't happen this year, but Empire State Games are "full steam ahead" for 2010 in Buffalo.
Back to school, with the flu.
The word "oriental" is now banned from state documents.