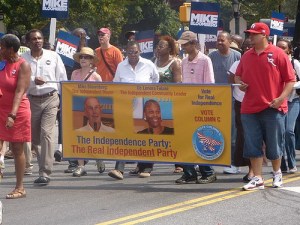 "I endorsed him and I hope he'll win," Colin Powell said of Michael Bloomberg.
Former congressman Joe Kennedy won't run for his uncle's Senate seat.
Doug Hoffman left the 1980 Olympic organizing committee with $6 million in debt.
A councilman from western New York wants the FBI to probe Buffalo Mayor Byron Brown.
Henry Wojtaszek insists he's not interested in a power-sharing agreement.
Chuck Schumer and Anthony Weiner are behind Mike Miller for Assembly.
It doesn't look like the state fair will break last year's attendance record.
Christine Quinn and the Empire State Pride Agenda are defending Brad Lander, after that Der Blatt incident.
But Howard Dean is threatening to withdraw his endorsement, according to this web site.
Binyamin Barber pledged to raise $100,000 for Thompson.
Powell wore comfortable shoes.
Billy Tallen, still campaigning.
Glenn Thrush explains that Nancy Pelosi's safest option on Charlie Rangel is inaction.
Thompson's campaign wants to "keep the momentum of the 2008 elections going!"