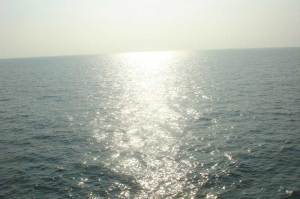 Despite the recent autumn temperatures, this weekend is your last gasp of "official" summer. And, unlike many of the weekends this summer, it's going to be pretty nice—70s and sunny everyday! Maybe you're headed down to Lower Manhattan for one last hurrah of waterfront fun at South Street Seaport or Water Taxi Beach or Governors Island? If so, checkout these nearby eateries, recommended by the Michelin Guide:
Serious business folk crave serious steak, and they find it at Nebraska Beef. This unpretentious spot, three blocks away from the New York Stock Exchange, is worth seeking out for its grain-fed beef, raised (of course) in Nebraska. Wall Street traders rushing to get back to the office often sit at the long bar—a lively scene both day and night—and grab a quick steak sandwich, Caesar salad, or house burger. Those with time to kill can settle into the dark, wood-paneled dining room for a heartier repast, which might include a Porterhouse for two, or an appetite-defying 32-ounce prime ribeye that goes by the understated name of The Steak. This restaurant's discreet façade is easy to miss, so keep an eye out for it while walking down Stone Street.
At midday, Adrienne's is abuzz—its Financial District setting attracts hordes of business types for delectable thin-crust pies. Come evening, the restaurant trades the chaos for calm; this is when diners notice the custom-made oak paneling and upscale touches. This is also when the menu adds a list of baked dishes such as thinly sliced, fried eggplant stuffed with creamy ricotta, as well as 10-inch round pizza to the square pie selection, all presented with toppings at the peak of freshness and flavor. Even the servers are more engaging at dinner, when less rushed by diners needing to get back to work. Adrienne's owners, the Poulakakos family, reign in the Financial District, where they operate several other establishments.
The ground floor of the historic Hanover Bank building is home to two distinct and equally gratifying experiences from a single kitchen. Both are accessible from entrances on Pearl Street and Hanover Square, though navigating between them may seem mazelike. Those in the mood for a Kobe beef hotdog should make their way to Harry's Cafe. For serious lamb or steak, outstanding pasta specials, and one of New York's better cheesecakes, we suggest the well-ensconced Harry's Steak. The cafe's large, unencumbered bar area is clearly the place where Wall Street types blow off steam after work. The whitewashed alcoves and private dining at the steakhouse are where politicians come to broker deals. The wine list includes some great vintages and well-priced offerings.
After a long day of downtown sightseeing or a cruise to the Statue of Liberty, this unpretentious Italian restaurant is a welcome, calming oasis. Sister to Gigino Trattoria in TriBeCa, this Gigino is tucked into the ground floor of a wedge-shaped building in Wagner Park. The best seats are on the raised outdoor terrace where harbor views abound—call ahead to reserve these. Gracious service is assured, no matter where you sit. The dining room has a pleasant air with its palette of creamy whites and large windows. Select from the well-prepared antipasti before moving to heartier fare, such as the succulent, perfectly grilled veal chop with sweet, smoky red onions. A prix-fixe menu offers good value, and a children's menu keeps picky palates happy.