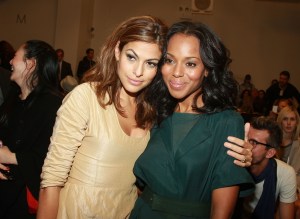 The VIP row at the Calvin Klein show on Thursday, Sept. 17 included actresses Kerry Washington, Rose Byrne, Thandie Newton and the brand's current poster girl, Eva Mendes.
Designer Francisco Costa sent out his models looking like futuristic newborns: wet hair in minimalist ponytails, bodies glistening with baby oil. They wore neutral-colored dresses in high-textured fabrics that had a predisposed shape entirely different from that of a woman's figure.
Afterwards, reporters surrounded Ms. Mendes to find outwhat she thought.
"I love the colors," she said. "I like that kind of coral one and the chartreuse one. I just think it was an elegant, easy, beautiful collection."
But is it something she can see herself wearing on a red carpet, someone asked? "I think, you know, there's ways to work around things," she replied. "The things that are sort of see-through, you can always add a slip under without messing up the integrity of the dress or the intention that Francisco wanted. So yes, there's always a way to make it red-carpet right."
Someone else asked about Ms. Mendes's experience shooting the black and white campaign for the fashion house, in which she and model Jamie Dornan lay around in their underwear.
"I mean, being lathered in oil from head to toe and try to pretend that that's normal–that's always a little strange," said Ms. Mendes. "But it was wonderful and I couldn't be happier with the results."