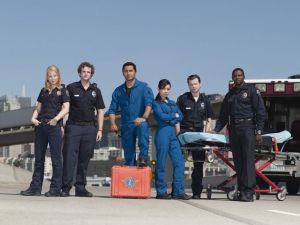 If there is a silver lining to be found in the end of the summertime—besides these seasonable temperatures!—it's that we are on the precipice of the fall television season. Thank goodness. In an effort to get you and your DVR prepared, here's the Observer's fall TV preview. Yesterday, we talked about CBS. Next up, the big peacock NBC!
The Jay Leno Show (Weeknights at 10 p.m., premieres September 14)
What NBC says: "On the final episode of The Tonight Show with Jay Leno, the host reminded viewers not to get too teary-eyed during his last stint behind the desk he has occupied for 17-years by reminding them that he would be back on NBC this fall with his new venture The Jay Leno Show." Opening night guests include Jerry Seinfeld and a performance of "Run This Town" by Jay-Z and featuring Kanye West and Rihanna.
What we say: Have you heard that Jay Leno is hosting a new show in primetime? Us neither! Kidding aside, we actually think the most talked about decision of the season could end up being one of the smartest made by NBC in a long time. The Jay Leno Show gives the fledgling network cheap programming that could do very respectable when it comes to ratings. At the very least, it can't possibly be worse than My Own Worst Enemy.
What we'll say six months from now: "Yep, Jay does still have better numbers than Dave. What the hell is wrong with you, America?"
Trauma (Mondays at 9 p.m., premieres September 28)
What NBC says: "Executive producer Peter Berg (Friday Night Lights) delivers Trauma, the first high-octane medical drama series to live exclusively in the field where the real action is. Like an adrenaline shot to the heart, Trauma is an intense, action-packed look at one of the most dangerous medical professions in the world: first responder paramedics."
What we say: And the award for the most generic sounding show of the fall goes to… Trauma! We love Mr. Berg's track record and have a soft spot for Derek Luke (the most recognizable name of the mostly unrecognizable ensemble), but Trauma just feels like a show that should have been burned off during the summertime.
What we'll say six months from now: "What was Trauma again?"
Mercy (Wednesdays at 9 p.m., premieres September 23)
What NBC says: "Mercy, a new medical drama with a unique point of view, portrays the lives of the staff at Mercy Hospital as seen through the eyes of those who know it best: its nurses. Nurse Veronica Callahan (Taylor Schilling, Dark Matter) returns to Mercy from a military tour in Iraq—and she knows more about medicine than all of the residents combined. Together with fellow nurses Sonia Jimenez (Jamie Lee Kirchner, Rescue Me) and Chloe Payne (Michelle Trachtenberg, Gossip Girl), Callahan navigates through the daily traumas and social landmines of life and love both inside the hospital and out in the real world."
What we say: Wait, did we say Trauma was the most generic sounding show of the fall? Maybe we spoke too soon. Mercy (what is it with NBC and one name titles?) looks poisonous enough to make Grey's Anatomy tolerable. Not even the presence of the lovely Ms. Trachtenberg could make us watch this thing.
What we'll say six months from now: "Thank God Mercy got canceled in time for Michelle Trachtenberg to come back for the final five episodes of Gossip Girl!"
Community (Thursdays at 9:30 p.m., premieres September 17)
What NBC says: "From Emmy Award-winning directors Joe and Anthony Russo (Arrested Development) comes Community, a smart comedy series about higher education—and lower expectations." The Soup's Joel McHale and Chevy Chase co-star.
What we say: Now here's a show we're legitimately excited about! Everything we've seen from Community—about life inside a community college—has made us cackle with delight; don't be surprised if this series continued NBC's golden touch with comedies. As an added bonus, say hello to who could be the breakout star of the fall: Between Community and his appearance in Steven Soderbergh's The Informant! it's clear Mr. McHale isn't just for basic cable anymore.
What we'll say six months from now: "We think we like Community more than The Office."