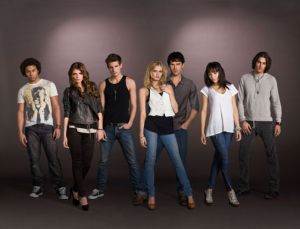 If there is a silver lining to be found in the end of the summertime—not counting the ever-increasing likelihood that we'll all get the swine flu—it's that we are on the precipice of the fall television season. Thank goodness. In an effort to get you and your DVR prepared, here's The Observer's fall TV preview. We've already covered CBS, NBC, Fox and ABC. Finally, here'st CW!
Melrose Place (Tuesdays at 9 p.m., premieres September 8)
What the CW says: "In an elegant Spanish-style apartment building in the trendy Melrose neighborhood of Los Angeles, a diverse group of 20-somethings have formed a close-knit surrogate family. When a bloody body is found floating in the courtyard pool, the police are soon to discover, almost everyone living at Melrose Place had a reason to want the deceased out of the way."
What we say: Because suffering through the indignities that were the first season of the CW's 90210 reboot weren't quite terrible enough, here comes a reboot of Melrose Place. We won't spoil who that floating dead body is, but know it's one of the original characters (Hint: rhymes with Mindy). As for the series itself, if it's anything like the billboards for the show that are plastered around the city—"Ménage a Tues," "Tuesdays are the New Hump Day"—we're not expecting much.
What we'll say six months from now: "That 90210/Melrose Place crossover episode was fairly disappointing."
The Beautiful Life (Wednesdays at 9 p.m., premieres September 16)
What the CW says: "The life of a high-fashion model appears glamorous and sexy, but as every new model quickly learns, behind the beauty is a world of insecurity and cutthroat competition."
What we say: From executive producer Ashton Kutcher, The Beautiful Life promises to be a fictionalized version of Project Runway, or, perhaps, All About Eve with models. Whatever. We're just interested to see if former O.C. star Mischa Barton can make it through the first season without being fired and/or going into rehab.
What we'll say six months from now: "Why hasn't anyone given Rachel Bilson her own series?"
The Vampire Diaries (Thursdays at 8 p.m., premieres September 10)
What the CW says: "Four months after the tragic car accident that killed their parents, 17-year-old Elena Gilbert (Nina Dobrev, DeGrassi: The Next Generation) and her 15-year-old brother, Jeremy (Steven R. McQueen, Everwood) are still trying to cope with their grief and move on with their lives. Elena has always been the star student; beautiful, popular and involved with school and friends, but now she finds herself struggling to hide her sadness from the world. As the school year begins, Elena and her friends are fascinated by a handsome and mysterious new student, Stefan Salvatore (Paul Wesley, Army Wives). Stefan and Elena are immediately drawn to one another, and Elena has no way of knowing that Stefan is a centuries-old vampire, struggling to live peacefully among humans, while his brother Damon (Ian Somerhalder, Lost) is the embodiment of vampire violence and brutality."
What we say: If you can't wait until New Moon hits theaters in November, then this is the series for you! The Vampire Diaries has a chance to be a solid hit for The CW, if for no other reason than vampires are so hot right now. However, that Lost alum Ian Somerhalder and his doppelgänger Chace Crawford are now both calling the same network home is probably yet another sign of the coming apocalypse.
What we'll say six months from now: "OMG! They brought Boone back to Lost!"