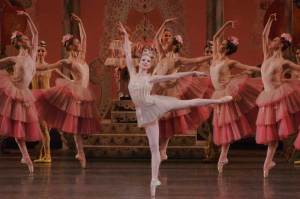 Start your autumn downtown! Dixon Place's new home on the Lower East Side gives ample space to artists who explore the boundaries of dance, or more to the point, break them down. Genre-blending is a requirement—as in the "Body Blend" and "Crossing Boundaries" series—as it is in the show for Cynthia Berkshire, Karen Bernard and Jil Guyon, each of whom present works-in-progress for a program titled 3 Femmes, taking place this Friday. Themes range from dangerous sexual fantasies to surrealist Kabuki theater.
Another downtowner, Lucy Guerin, is probably a bigger deal in her native Australia, though she is practically canon-worthy to a certain dance-world cognoscenti here, where she spent much of the 1990s making modern work memorable for its intricate structure and emotional intensity.
On Oct. 1, she returns to the Dance Theater Workshop to present Structure and Sadness, a work that treats the 1970 collapse of the West Gate Bridge in Melbourne, which killed 35 people.
Lucinda Childs' modest downtowny beginnings at the Judson Dance Theater, where she began to choreograph in 1963, eventually led her to dance greatness—and a string of fantastic fellow travelers to work with, including Philip Glass, John Adams, Sol LeWitt and Robery Wilson. Her minimalist style, precise and coolly compelling, is no more vividly on display than it is in DANCE, her iconic work made with Mr. Glass and LeWitt in 1979. After a celebrated revival this summer at Bard College, she brings it to the Joyce for a one-week stay beginning Oct. 6.
The ABT usually sets up shop at City Center for their fall season, but not this year: Renovations got in the way. Fear not, though. The company will take over Avery Fisher Hall instead, from Oct. 7 through Oct. 10. You may be thinking the venue isn't great for dance, but three restlessly inventive choreographers—Alexei Ratmansky, Aszure Barton and Benjamin Millepied—are making works specific to it to get us around that..
Then it's back to the Joyce again! Cedar Lake Contemporary Ballet, which has made it its mission to showcase emerging choreographers while not sacrificing an inch to mediocrity, will stage there Sidi Larbi Cherkaoui's 77-minute work Orbo Novo, a fierce and physical ballet set to live music. The award-winning work, which opens Oct. 20, features an original score for string quartet (Oct. 20 through Oct. 25).
However inventive the dance scene in New York becomes, it will be said that we await our next Balanchine. Perhaps; and if so, everyone's candidate seems to be Christopher Wheeldon, the former New York City Ballet resident choreographer who shocked the dance world when he left to found his own company two years ago. Morphoses comes to City Center Oct. 29 through Nov. 1 for its third true New York season, performing new works by Mr. Wheeldon and the Australian Tim Harbour, plus a couple of repeats by Mr. Ratmansky and Lightfoot León. The Philharmonic Orchestra of the Americas provides live music.
As part of this year's Performa 09 festival, which showcases live performance art, Judson-era alum Deborah Hay and Yvonne Rainer presents new work. Ms. Hay's If I Sing to You features a piercing sung score that leads a dancer through various stages of consciousness, while Ms. Rainer's Spiraling Down follows a completely random stream of consciousness. Newspaper photos, Steve Martin and Sarah Bernhardt are all referenced here (Nov. 17 through Nov. 19, Baryshnikov Arts Center).
Of course as fall progresses, the inevitable Nutcracker arrives. The City Ballet will run five weeks of the Balanchine classic at the David H. Koch theater starting Nov. 27, after an opening-night benefit on he 24th, which features a new work by Peter Martins set to a John Adams score.
Round out the new year with Judith Jamison! She returned to Alvin Ailey American Dance Theater, after nearly a decade-long absence, when its founder, Ailey, died of AIDS in 1989. This season, the company celebrates the works Ms. Jamison has made in the past 20 years—Hymn, most notably—and ones commissioned during her tenure as artistic director. Those include crowd-pleasers like Ronald K. Brown's Grace and Jawole Willa Jo Zollar's Shelter. But Revelations, Ailey's seminal work, will always take the cake; and this year it gets performed, to round out the year, with live music. It starts Dec. 2 and runs through Jan. 3. Happy New Year!
William Forsythe's Decreation Comes to BAM
There's a chance that William Forsythe could have been America's next great ballet choreographer. After all, he was born in 1949 in Long Island, but after a brief stint with the then progressive Joffrey Ballet in the 1970s, he left for Europe. When he was eventually named director of the Ballett Frankfurt in 1984, it gave him an opportunity he couldn't refuse: making ballets without interference. He spent 20 years there, turning the company into a world-renowned treasure, and establishing himself as one of ballet's most forwarding-looking minds. He made the classical vocabulary speak a contemporary language: ironic, intense, funny and smart. But when the city of Frankfurt threatened to pull back on funding earlier this decade, Forsythe was nearly thrown into the ether. A great artist—and good enough businessman—he's survived, founding his own company, still based in Germany, in 2005. The Forsythe Company mainly allows its namesake to make new works, but when he brings his troupe to BAM, he'll be showcasing one of the last dances he made for Ballett Frankfurt. Decreation, from 2003, after an essay by Anne Carson, is his Gesamtkunstwerk, a totalizing piece with music, video recordings, dance, some modern-ish opera and a story line that claims to capture the entirety of lived experience. Bold, yes, foolhardy, certainly. But if there's anyone who can wring humility from hubris, it's Forsythe. —E. H.

Decreation from the Forsythe Company opens at the Brooklyn Academy of Music, October 7-10.