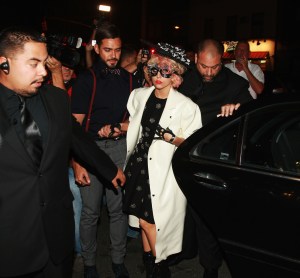 On Wednesday, while at the Michael Kors show, we saw a few curious things.
Stylist Rachel Zoe was playing with a Barbie doll in a sparkly dress; actor Michael Douglas showed up in a leather blazer and created such a mob scene that socialite editor Lauren Santo Domingo almost went toppling off the runway while just trying to get to her seat; socialite and now Marie Claire associate market director Amanda Hearst's seat was all the way back in Row 5 (though we're pretty sure she never showed); and supermodel Sasha Pivovarova, who's usually a strong runway presence, seemed to have the sniffles.
But more importantly, when Mr. Kors's chosen music came on, it was so loud and the bass was so strong that our backside literally vibrated in the seat with each thump. The song was "Poker Face," by Lady Gaga. In fact, the entire soundtrack for the show consisted of songs from her album. "Poker Face" also played at Dennis Basso earlier in a remixed version and at practically every party the Transom attended this week. All of which made us realize that the attention the singer has received (directly or indirectly) this Fashion Week trumped that of any designer, celebrity, or socialite. Not even Madonna or the Olsen twins could compete.

Ms. Gaga's brilliant parade began last Friday, when she arrived at a charity fundraiser given by the BGC Partners, an inter-dealer brokerage firm. On Sunday, she was at the MTV Video Music Awards at Radio City Music Hall, where she changed outfits (all insane) five times and hung above the stage, dripping "blood." On Monday, she attended the Marc Jacobs show in motorcycle gloves, a leather mask with spikes, and a white blazer . That evening she performed at a party hosted by V magazine and Mr. Jacobs at Hiro in a see-through, lace bodysuit and a gold crown. The following night she was with gossip blogger Perez Hilton at the launch of cocoperez.com, his new fashion site. The same night she arrived late at The Box for a bash thrown by Out–though oddly, she refused to pose for photos there.

And where Ms. gaga didn't actually show up, she still seemed to be a presence: Designers either talked about how much they loved her style and reviewers speculated about the singer's "pantlessness" affecting designers' collections this season.
God only knows where we'll find her tonight. And yet, we pray she is still in town.