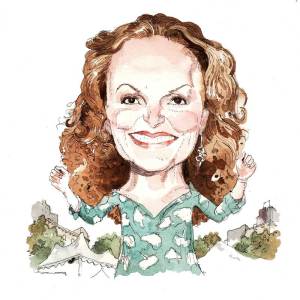 Your preview to eight days of fabulosity:
She's Mayoress of Tent City!
Diane von Furstenberg is the reason the fashion world's eyes turned from supermodels to designers

BY ALEXANDRA JACOBS
Examining the Spring 2010 Fashion Weekschedule—and how futuristic that date seems; why are we not walking around in plastic spacesuits as Courrèges forecast?—one is struck by how designerly the whole affair has become—not about Cindys and Lindas and Naomis but Doo.Ri and Charlotte Ronson and Tory Burch.
This is partly thanks to idiot shows like Project Runway, of course (now anyone, from Alabama to Antwerp, can make clothes). But a symbolic debt is also owed to the president of the Council of Fashion Designers, a near-universal idol of New York women: Diane von Furstenberg.
Shop Till You Drop Off!
Retailers ready the hors d'oeuvre platters for Fashion Week's big nocturnal event

BY SIMON DOONAN
Andy Warhol said: "I like to be the right thing in the wrong place and the wrong thing in the right place. Being the right thing in the wrong place and the wrong thing in the right place is worth it because something interesting always happens."
When Anna Wintour arrives at the Queens Center Shopping Mall this coming Thursday night for the kick-off of Fashion's Night Out, will she be the right thing in the wrong place or vice versa? As an unapologetic fan of the iconic Vogue editrix, I like to think she will be the right thing in the right place, and am quite sure that something interesting is bound to happen. I can see La Wintour now, in full Margaret Mead mode, intrepidly exploring unfamiliar stores named Rave Girl, Sneakermania or Bling Bling. There she is refueling at Cinnabon. There she is counseling her daughter Bee against entering The Piercing Pagoda.
Why You All Look Like Blair Waldorf
Gossip Girl muse and designer Abigail Lorick, a former Ford model of 27, is also doing sweet chic in real life

BY IRINA ALEKSANDER
"It's really amazing that I am this relaxed," said the fashion designer Abigail Lorick, sucking down a monstrous iced coffee on the sixth floor of a nondescript building on Pearl Street the other morning. "I should be freaking out by now." She bent down to pet her adopted Brussel Griffon, Bill (a girl), who was pawing at her ankles.
It was exactly a week before Ms. Lorick's spring '10 presentation, which will take place Thursday, Sept. 10, at the Soho Grand, and two interns were sitting in a trancelike state at desktop computers at her studio, which is also her home (she sleeps in a lofted space up a flight of stairs), relaying one exciting development after the next.
Trad Men
They're mad for madras plaid, nuts for navy and firm about flat-fronts!

BY JOE POMPEO
For everyday New York men who strive to be reasonably well dressed, it can be a daunting experience shopping for clothes that won't make you look like an ass.
Simply traverse the labyrinthine corridors of Barneys, Bergdorf and Bloomingdale's, where the all-over-the-place mess hanging from the men's racks is enough to induce migraines: Are pink ties metro or macho this week? Should slim-fit jeans really be this tight? Why do these scruffy flannel lumberjack shirts cost $300? And what's with all the crazy stripes and extra pockets and ridiculous eagle prints? Things aren't any simpler inside the showrooms of up-and-coming men's wear designers, a casual survey of which might make a discerning fellow ponder whether he'd rather look like an urban vampire (Robert Geller), a coal miner (Gilded Age) or a confused sailor (Rogues Gallery).