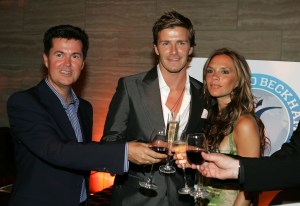 For the past two years, Sojin Lee, who was previously the head of retail and buying at Net-a-Porter, has been working on a Website called Fashionair with the help of American Idol's Simon Fuller. It will go live on Thursday, September 3.
"I felt there was a huge hole in the marketplace when it came to an immersive fashion web experience," said Ms. Lee by phone from London, where the company is based. "You either had retail sites or magazine sites or bloggers, but you didn't have anyone that pulled them all together. The democratization of fashion is really important because that's what the Internet has provided and it just made sense to celebrate the breadth of fashion and bring all that information to the consumer."
Ms. Lee was introduced to Mr. Fuller through her friend, designer Roland Mouret, who himself has been working with the British producer on a fashion company in London called 19RM. (Mr. Fuller's company is called 19 Entertainment.)
"Roland said, 'Before you go off to your Conde Nast meetings or your LVMH or Gucci group meetings, you should go meet with Simon,'" Ms. Lee said. "We met a few times and it was love at first sight. He loves fashion. He absolutely loves it. He's such a private individual but he loves it and consumes it."
On Fashionair, which is currently in beta mode, there are sections called "Fashion Bites," which has things (websites, products, trends) that are favored by the editors that week; "Shopping," which allows users to shop by type of product (shoes, bags), runway trends (oversized clutched, island style), and local stores; "People" which has videos of Julia Restoin-Roitfeld showing off her closet and fashion photographer Ellen von Unwerth talking about her work; and "Personal Style," which allows users to shop their body shape (i.e. pear-shaped, petite) or personality (bohemian, downtown) and organize looks in MyFashionFile.
Ms. Lee says the point is to edit down all of the fashion information available on the Internet. "We're like the aggregator of aggregators," she said. "But we're the aggregator with an edit. When it comes to fashion you don't want to go through 10,000 pages of dresses because someone has aggregated every feed from the department stores. So we've got product merchandisers, who will say, 'Okay, today online, if you want the best blazers, here's the top 21 today.'"
After about half an hour of browsing around the site, the Daily Transom still felt like we had only viewed twenty percent of it; we would not object to a little bit more editing to the aggregating. Though we kept getting lost in the massive amounts of content, the channels are simple and we were able to find our way back fairly easily.
Ms. Lee's venture is the latest in Websites that attempt to get fashion fans to read about clothes and make purchases all in the same place. But Ms. Lee said Fashionair is different from other sites like Polyvore, which allows users to create looks and save them.
"Those are tech companies providing users with tools to create their own content: It's user-generated content, it's consumers expressing themselves but it's not led by any industry content," she said. "So we pull that stuff in."