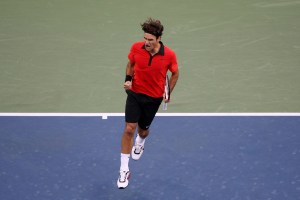 This one was never in doubt. Yeah, the ledger will read that Roger Federer outlasted Djokovic 7-6, 7-5, 7-5, which looks like you had three close sets, but there was no question who was going to win every critical point at the end of each set.
Federer's play has been so carefree in this tournament. There was no better demonstration than on the second-to-last point in the match, when Federer chased a Djokovic lob, and, with his back turned, hit a dizzying between-the-legs, cross-court winner. The crowd lost its mind. Federer humbly referred to it as the "greatest shot I ever hit."
When Mary Joe Fernandez asked him how he did it afterwards, he said, "I had nothing to lose."
That's how he's been playing this whole tournament. Wasn't it just last year that it looked like Roger was crashing? Wasn't he supposed to unravel after he lost to Nadal at the Australian Open?
Then he won the French Open. Then he comes into Wimbledon and, in the best match Andy Roddick ever played in his life, he won, again.
Everyone expected a letdown for Federer in this tournament. Never happened. We thought the crowd would finally tire of Roger Federer. Boy, were we wrong. He may never have had this much support, and it's easy to see why: He's just having so much fun out there.
Speaking of crowd support, Novak Djokovic has officially reestablished himself as a fan favorite in his loss this evening. The Serbian may have walked into this tournament a villain after his bizarre on-court interview with Andy Roddick last year, but after hitting balls with John McEnroe, and losing today with a whole lot of grace, the crowd gave him an enormous reaction. Two men won today.