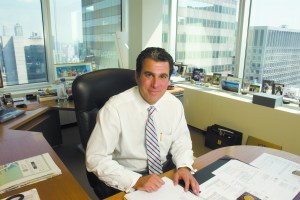 The prospective tenants came one by one until finally, inexplicably even, four financial services companies made bids earlier this summer—all on the same Park Avenue office space.
A hedge fund and a foreign conglomerate are among the firms that have pushed the asking price of the 25,000-square-foot space to more than $100 a foot, said CB Richard Ellis' managing director, Matt Van Buren.
It all sounds so decadent, so positively bullish, so five years ago, but real estate experts insist that competition for Manhattan office space is surging at a frenetic clip that seems to contradict the recessionary gloom, and to bode well for leasing in the fourth quarter, starting Oct. 1.
"This hasn't happened in a very long time," said Mr. Van Buren, giddily describing the top-shelf Park Avenue space and the widespread attention it's gotten. "It shows that there's real confidence coming back, and tenants are actually willing to make deals."
Indeed, like Jacques Cousteau in the Mediterranean, bullish Manhattan brokers, analysts and executives have been feeling around for the bottom, and many believe they've found it by reading the third-quarter tea leaves.
Riding on the momentum of an unseasonably sunny summer, in which leasing activity saw a measured spike in July and August, brokers now believe tenants who didn't ink deals earlier this year will follow suit and strike before rents begin to surge.
"Every herd of cows, when they go back to the pen, has a bell cow, and that bell cow leads them all," Stephen Siegel, global brokerage chairman of CBRE, said, using characteristically colorful language. "The trendsetters are the cows that came around in the third quarter."
With as many as 15 million square feet of leases in Manhattan expected to roll over in the fourth quarter, according to data provided by Cushman & Wakefield, it's no wonder so many are smiling.
Experts also pointed to an unusually high number of 10- and 20-year leases set to expire between 2010 and 2013, thanks in part to companies that signed deals after 9/11 and, back further, start-ups that inked during the dot-com bubble.
But, right now, all eyes are on the fourth quarter.
"The leases are expiring, and the tenants are waiting until the last possible moment to make commitments," said Mitchell Konsker, a Cushman & Wakefield vice chairman. "There's going to be a lot of announcements in regard to the number of transactions this quarter, and, in my opinion, I really believe the leasing velocity is going to remain really strong for the rest of the year."
Adding to the positive outlook for the period between Oct. 1 and Jan. 1, businesses are finally beginning to rehire aggressively after a long job freeze, analysts say—an indication that leasing will follow.
IT'S NOT JUST THE usual suspects. Midsize financial firm Moelis & Company, fresh off an aggressive hiring jag, recently doubled its size to 90,000 square feet and, in August, inked at 399 Park Avenue. Holding firm Nomura has also begun an ambitious expansion plan, leasing experts said.