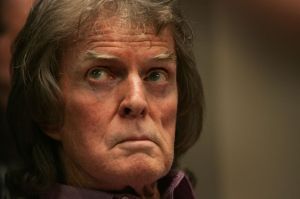 This fall, Don Imus will make a big return.
And when he does, rest assured, his most vocal public critic will be there to cry foul.
This morning, executives at the Fox Business Network officially announced that they will begin simulcasting Mr. Imus' WABC morning radio show, weekdays from 6 to 9 a.m., beginning on October 5. In the new arrangement, a handful of FBN reporters, including Jenna Lee and Connell McShane, will occasionally chime in to Imus in the Morning to report on breaking business stories.
But while an increasing number of journalists and media outlets may be ready to forgive Mr. Imus for referring in 2007 to the Rutgers womens basketball team as "nappy headed hos", he'll receive no such clemency from his longtime most vocal, public critic–namely, Philip Nobile.
On Thursday afternoon, when The Observer reached Mr. Nobile, (a Brooklyn-based teacher and author, whom we profiled in the spring of 2007), he said he was not happy about the new arrangement. "But it is a fitting marriage," said Mr. Nobile. "It's a marriage made in hell."
Although Mr. Nobile (who once published a recurring column for TomPaine.com called "Imus Watch") doesn't monitor Mr. Imus as carefully as he once did, he still occasionally tunes in and takes notes on Mr. Imus' program. "His bigotry has hardly disappeared," Mr. Nobile argued on Thursday afternoon. "Instead, his program now focuses its slurs almost exclusively on gays. His old favorites–faggot, fruit salad, carpetmuncher–have been euphemized into foreign slang like poofter (British) and finoccio (Italian)."
"So they can laugh about it without apparently rousing the media watchers like me," he added.

Over the years, Mr. Nobile has been kicked out of a number of venues, ranging from Yankee stadium to the 92nd Street Y, for protesting against Mr. Imus. Back in December of 2007, he was nearly arrested for protesting at Mr. Imus' live kick-off performance for RFD-TV and WABC radio at Manhattan's Town Hall.
When Mr. Imus makes his FBN debut on October, 5, Mr. Nobile knows where he'll be: outside the News Corp. headquarters on 6th Avenue, protest sign in hand.
"It is my fate," said Mr. Nobile, "to be Imus' Inspector Javert."