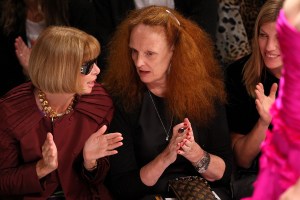 At Oscar de la Renta's noon show today, attended by designer Zac Posen, photographer Patrick Demarchelier, and Mr. and Mrs. Graydon Carter, the Transom spotted Vogue's publisher, Tom Florio, a few rows behind his editor, Anna Wintour, and her now superstar creative director Grace Coddington. The Transom thought Mr. Florio could use some much-needed attention.
"Hi, Mr. Florio! Can we have a minute of your time for the Observer?" we asked.
He looked up nervously and said, "Oh, no. Are you going to ask me about McKinsey?"
"Um, no?"
"Okay, then."
Mr. Florio told us that his Fashion Week schedule is fairly relaxed and that so far he has been to Max Azria, Thakoon, and Tory Burch. "I try to do a mix of fashion leaders like Oscar as well as newer designers," he said.
If fashion editors attend shows to plan future spreads and retailers to place orders, the Transom wondered, why is someone like Mr. Florio there?
"I look for trends," he said. Like knee-high boots and sculpted shoulders?
He laughed. "No, I look for trends in the business," he said, "Like the whole idea of luxury at a better price point, which is something Tory Burch is doing. I try to get a sense of the sociological trends which our editors will adapt. It just ads a little context. You need to understand the business trends like global warming and fabrics getting lighter and more transitional pieces in fashion. If you can speak intelligently about these things when you sell ad pages, you can sort of take their [advertisers'] point of view."
Interesting! We then asked Mr. Florio what sorts of responses he's gotten to R.J. Cutler's The September Issue, in which he appears a warm and likeable fellow, gallantly defending Ms. Wintour's perceived remoteness.
"The feedback that I have received is that brought back the creativity and hard work of what it means to be in the fashion business," he said. He paused for a moment. "As opposed to those reality shows where these amateurs portray the business as very frivolous."
Did we mention that Elle's Anne Slowey, the star of CW's Stylista, was sitting right across the aisle?