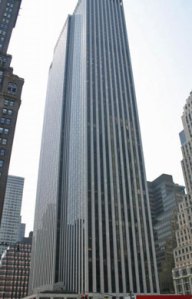 General Motors' torturous search for a new home in New York City has finally reached an end. And, oh, what an anticlimactic end it is.
General Motors has signed a 114,300-square-foot, 10-year lease renewal at, you guessed it, Boston Properties' General Motors Building, at 767 Fifth Avenue, the white-marble shaft that has borne its name since completion in 1968.
It wasn't supposed to happen like this.
General Motors filed for bankruptcy on June 1, the very day that its 10-year lease for 120,000 square feet at Boston Properties' Citicorp Center was set to begin.
"However, on June 12, 2009, General Motors Corporation rejected the lease in bankruptcy effective as of June 30, 2009," reads Boston Properties' second-quarter earnings release. "The contribution from this lease, on a contractual basis, from July 1, 2009 through December 31, 2009, was projected to be approximately $6.6 million."
To its credit, Boston Properties, led by its chairman, Mort Zuckerman, and CEO, Ed Linde, turned water into wine, convincing GM to remain at the GM building, rather than allowing it to leave the Boston Properties' portfolio altogether. For its part, GM saved itself millions by making do with its already constructed office space. But perhaps the most clever clause in the whole transaction is the one prohibiting Boston Properties from renaming the GM Building for another car manufacturer, should another manufacturer take up residence in the building at some point in the near future. (Can you imagine how embarrassing it would be for GM's New York headquarters to be in, say, the Kia building?)
Even though common sense and basic math would indicate that a 114,300-square-foot lease is larger than GM's former 101,000-square-foot GM Building lease, thanks to the brain-bending, arithmetic-defying wonders of commercial real estate "loss factors," the lease is actually a slight reduction for GM (don't ask). The firm will continue to occupy floors 14 through 16, but it has given up a small amount of space on the tower's fourth floor. Boston Properties, which was represented in-house by Robert Selsam and Andrew Levin, declined to comment for this story.
But Jones Lang LaSalle's New York president, Peter Riguardi, who with Michael Shenot and Lloyd Desatnick represented General Motors, explained GM's decision to stay put thusly.
"General Motors has been a tenant at 767 Fifth Avenue for a number of decades," Mr. Riguardi said in a statement. "The building is one of the premier trophy buildings in Manhattan, and it is owned and operated by a top-notch landlord with which the automobile manufacturer has developed a comfortable relationship."
drubinstein@observer.com