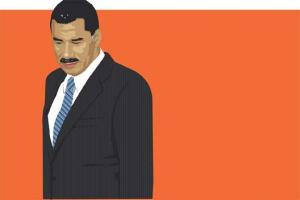 It was supposed to be a coup de grace administered, clinically and quietly, to a writhing, mortally wounded Paterson administration. But the White House's attempt to spare likely about-to-be-governor Andrew Cuomo the unsightly task of getting David Paterson out of the picture has only made things messier.
All of a sudden, what should have been an easy-to-answer question about this governor's competence during his 18 months in office—the public has emphatically judged him to be a failure, therefore, goodbye—has become something that is about local political prerogative, that is tinged with race and that is undeniably personal.
"Clearly, I'm running for reelection," David Paterson said at a Sept. 22 event at Columbia University, one day after an awkward, painfully parsed meeting with President Obama upstate, and two days after it was first reported that the White House had dispatched presidential surrogates to tell the governor that they wished him to abandon a stated plan to run for election next year.
"You don't give up because people tell you what they think is going to happen," the governor continued. "You don't give up because people tell you who's running and who's not before they ever announce to do it. You don't give up because you're unpopular, when you feel you've made the right decisions and when people get a chance to look at what you're up against and reflect on it."
Latching on to a Sept. 22 decision from the State Court of Appeals affirming his authority to appoint a lieutenant governor—a decision that, in any other context, would have been recorded as a significant bit of good news—he added, "And if you keep the attitude that you don't give up, you may get to prove people, when the final tabulation is in, that you were doing the right thing. And that's what happened with the court decision today."
That defiant posture is going to change at some point, as local Democrats grow more explicit about their opposition to a Paterson run and its consequences for them.
("It's not just some labor leaders or some elected officials concerned about their reelection," said Assemblyman Michael Benjamin, a Bronx Democrat, in an early reaction to news of the Obama administration's attempted intervention. "It's long overdue. I think our best bet would have been for the White House to ask him to step aside and offer him a position, but this is definitely a positive step.")
It's perfectly conceivable that, as of now, the governor means what he's saying. But it almost doesn't matter. The moment it became public knowledge that he had been approached and warned off a run by the White House's political director, Patrick Gaspard—a veteran New York operative who happens to have ties to, among many other local officials, Mr. Cuomo—it foreclosed the possibility of a graceful exit.
The Obama administration's un-private entreaties for the governor to move aside now make it impossible for them to arrange a soft landing for him without it being a blatant trade-off. And if Mr. Paterson abandons his stated plans to run for the office he currently occupies anytime soon, with or without a next job lined up, it will look as if he is doing so under orders from above. So his least awful option, for the moment, is to stay right where he is.
It's not even clear that the governor sees the election as a hopeless prospect. To believe that the governor perceives the situation the same way as everyone outside an immediate circle of loyal advisers does assumes, as the White House presumably did, that the David Paterson operation is a rational, predictable decision-making entity.
It isn't. This is due both to the governor's innate propensity to improvise, as well as to what a number of current and former Paterson insiders describe as compartmentalized staff that doesn't always act, or provide advice, in concert.
On one side are David Johnson, who currently serves as the governor's omnipresent "body man," and Clemmie Harris, a former roommate from the governor's State Senate days who was hired last year as Mr. Paterson's "confidential assistant." Both have been with the governor, who has generally had trouble retaining senior staffers, since 2000.  
Some current and former advisers describe Mr. Johnson and Mr. Harris as being protective of the governor, and markedly more optimistic in their tactical advice than some of the other staff. One or both of them are always by Paterson's side—Mr. Johnson often spends the night at the Executive Mansion when he's in Albany—and they often serve as liaisons to more senior staffers.
On the other side are the likes of the governor's communications director, Peter Kauffmann, a Navy veteran and former Hillary Clinton aide who was hired in February 2009 to try to turn around the messaging operation, and Larry Schwartz, the no-nonsense chief of staff who was supposed to have brought order to the office after the abrupt departure last October of former top adviser Charles O'Byrne because of a personal tax scandal.
By all accounts, Mr. Kauffmann and Mr. Schwartz were out of the loop and caught unawares by some of Mr. Paterson's most grievous missteps, most notably his politically disastrous Aug. 21 appearance on Errol Louis' morning radio show to complain about negative media coverage.
("We're not in the post-racial period," Mr. Paterson said, saying treatment of himself and Deval Patrick of Massachusetts, the only other African-American governor, were being treated harshly in a way other white governors were not. "And the reality is that the next victim on the list—and you see it coming—is President Barack Obama." Tellingly, it wasn't until 4 that afternoon that the governor's press office mustered a statement walking back the racial aspect of his comments.)
The advice the governor is getting now, or at least the version of it that he seems to be listening to, boils down to the following: dig in.
Mr. Paterson left that eventful meeting with Mr. Gaspard—it took place on Sept. 14, a week before it was actually reported—on a cordial, not confrontational, note, according to one source familiar with the dynamics of the situation.
As Mr. Paterson huddled with advisers, "all of a sudden the meeting took a different cast."
According to the source, Mr. Harris and Mr. Johnson in particular saw it (correctly, actually) as an affront, and over the next few days pushed the governor to resist.
Three days after the president's request to abandon the campaign was delivered, Paterson 2010 announced it had hired Richie Fife—who ran former comptroller Carl McCall's successful primary campaign for governor against Andrew Cuomo in 2002—as its manager. (A spokesperson for the Paterson campaign pointed out that Mr. Fife had accepted the job two weeks earlier, prior to the Gaspard meeting.)
And when news finally broke of the meeting with Mr. Gaspard and another, reportedly related one in which Representative Greg Meeks conveyed a similar message, the governor was ready with his statements of defiance.
"I am running for governor right now," he told reporters gathered on Adam Clayton Powell Boulevard in Harlem.
His core supporters were ready, too. Representative Charlie Rangel, among others, expressed doubt that the Times report could possibly be true, and said he couldn't believe that Mr. Obama would ever have wanted Mr. Paterson to step aside.
In a separate interview, Councilman Charles Barron made explicit the racial component of a black governor being asked (albeit by a black president, via his black political director) to make way for a white successor.
"For the first black president to be telling the first black governor that he needs to step out—I don't think he said it, but if he did—people said he needed to step out and give it to Hillary, and then he became president," Mr. Barron said.
Mr. Paterson's campaign spokesperson, Tracy Sefl, said, "On Sunday, the governor made three points in his response to the recent reporting. One, he is running. Two, he won't discuss confidential conversations. And three, his focus is on running the state and getting New York's economy back on track. All three of those assertions remain true."
A spokesman declined comment on behalf of Mr. Kauffmann, Mr. Schwartz, Mr. Johnson and Mr. Harris on the internal dynamics of the office.
On Sept. 21, it was a beautiful Indian summer day on the campus of Hudson Valley Community College, set up a hill from the Hudson River at the edge of the city of Troy.
Mr. Paterson was the first to greet Mr. Obama when he landed at the Albany airport.
The visit was scheduled long before the president's political team had resolved to make a move on the governor, but there was suddenly an obvious, unpleasant political context to their interaction.
Mr. Paterson whispered something into Mr. Obama's ear, and the two entered separate cars in the motorcade.
As Mr. Obama toured the facilities at Hudson Valley, Mr. Paterson entered a dim room where the president's speech on the importance of education was to be delivered, chatting with Congressmen Paul Tonko, Scott Murphy and Maurice Hinchey, as well as Comptroller Tom DiNapoli, who sat on his left, and State Senator John Sampson.
Mr. Cuomo entered the room several minutes later, smiling. He and Mr. Paterson embraced, briefly, but did not spend much time talking to each other. Mr. DiNapoli and Mr. Sampson formed a quasi-barrier, and Mr. Cuomo chatted with Assemblyman Ron Canestrari, June O'Neill and, eventually, Assembly Speaker Sheldon Silver. At one point, the attorney general waved cheerfully to the cameras. People who sat around Mr. Paterson and Mr. Cuomo said their demeanor toward each other was warm, and local State Senator Neil Breslin, who sat behind the governor, said he was "upbeat."
Mr. Obama took the podium from Jill Biden, then turned to the corral of politicians on his left. The first "special guest" he thanked was Mr. Paterson, whom he described, without making eye contact, as a "wonderful man, the governor of the great state of New York."
Then Obama turned toward a smiling Cuomo, whom he described as he "your shy and retiring attorney general" to laughs.
"Andrew is doing great work enforcing the laws that need to be enforced," he said.
The speech lasted just under half an hour, and Mr. Paterson and Mr. Cuomo both rushed out the back door as Mr. Obama shook hands with a section of students. Neither man took questions. Mr. Obama shook hands with Mr. Breslin and other lingering officials before exiting through the same door.
The president and the governor flew to New York City on separate planes.