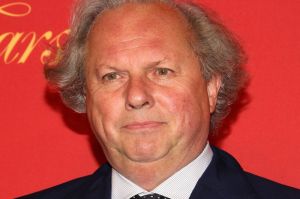 Graydon Carter hosted a book party last night at Monkey Bar, his little restaurant on 54th Street, to celebrate the publication of Lebron James' memoir.
The Observer caught up with Mr. Carter at the party, and it turns out that David Remnick of The New Yorker isn't the only editor at Condé Nast who won't have to meet with the McKinsey consultants currently trawling the hallways of 4 Times Square.
We asked Mr. Carter if he'd already had his meeting.
"What meeting?" he said.
The one with the McKinsey people!
"No, no," Mr. Carter said, emphatically. "They're not gonna meet with me."
They're not?
"No."
Then how are they going to decide what to do with your magazine?
"How are they what? I have no idea," Mr. Carter said cheerfully. "We haven't found out yet. I'm sure they'll have some brilliant ideas."
As The Observer reported, Mr. Remnick was told personally by Si Newhouse that he wouldn't have to worry about meeting with McKinsey consultants. It's unclear if Mr. Carter had a similar arrangement. But what is known is that Vogue editor Anna Wintour's magazine is one of two books at Condé Nast (the other is Traveler) that has gotten the closest inspection by the McKinsey minions.
A few minutes earlier, Mr. Carter had been talking more generally about the difficulty of running a media business during the recession.
"It's actually a great time to be an editor," he said, "because there's a lot of great stories out there. It's a tougher time to be a publisher."
Mr. Carter's longtime pal and Vanity Fair contributing editor Fran Lebowitz was spotted a little later sitting with her feet up in one of the booths in the front part of Monkey Bar. "This place could use a few ash trays," she said.
We brought up the McKinsey thing.
"You know, I'd never heard of these people," Ms. Lebowitz said, sharply. "I'd never even heard of this kind of thing, where they come in and tell you what to do. I've certainly heard of it since they arrived!"
She went on: "Why do you need to hire anyone to tell you what to do? If I owned a magazine and I needed advice, I'd ask myself. I don't understand this. I don't understand what their purpose is."
We suggested that maybe people who've worked at a place for a really long time might feel incapable of making tough, objective decisions?
"Well, I don't think it's anyone working there who hired them!" Ms. Lebowitz said. "The thing is, everyone seeks a lot of advice now. People who make $40,000 a year have financial consultants. 'How should I deal with my money?' Don't spend all of it! It's just common sense."
More on Condé Nast:
The Gilded Age of Condé Nast Is Over