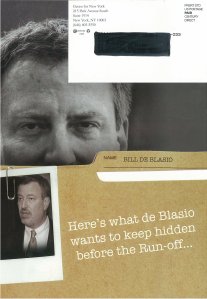 The manila folder attacks again!
A reader passes along a flier that's being circulated criticizing Bill de Blasio, who is in a run-off for public advocate against Mark Green.
It's the same design as another flier that went around Jackson Heights recently, where incumbent City Councilwoman Helen Sears implied that her opponent, Danny Dromm, had something in his past he was trying to hide.
In the public advocate's race, Green has hammered away at de Blasio for giving taxpayer money to local community groups while some employees and board members donated money to de Blasio's campaign.
On the back of the mailer, it says de Blasio is "up to his knees" in "shady money."
In the small universe of New York City politics, this kind of attack is unseemly but not uncommon. There's no evidence that de Blasio steered money to a specific group in exchange for a specific contribution, or that other, more deserving groups, lost out.
The ad also includes part of a Times editorial calling for an "immediate investigation by the Campaign Finance Board." De Blasio is mentioned in the editorial, but it's not really about him, it's about whether the Working Families Party is skirting spending limits in a way that benefits candidates they endorse The Times later endorsed de Blasio.