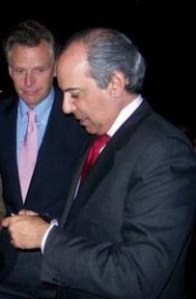 This morning, when Democratic bundler Hassan Nemazee pleaded not guilty to charges he defrauded three banks of $292 million dollars, he was flanked by his attorney, Paul Shechtman.
Mr. Nemazee helped raise substantial sums for John Kerry, Hillary Clinton, and later, Barack Obama, in their respective bids for the presidency, but, after the hearing this morning, Mr. Shechtman told the reporters that this "is not a case about funneling money to candidates." (The prosecution alleges Mr. Nemazee paid one bank back with loans from another bank, which were all obtained by listing collateral that Mr. Nemazee did not actually have.)
Mr. Nemazee, the Democratic fund-raiser, and Mr. Shechtman, the state's former Director of Criminal Justice under Republican Governor George Pataki, are an odd pairing, but as an October 2006 piece in the Times points out, Mr. Shechtman is no stranger to political scandals.
"So, who is the common denominator in the scandals and inquiries roiling state politics?" the Times wondered. The answer: "Paul Shechtman. He may not be a household name, but he is all over the place."
And then they proceeded to list:
Consider Comptroller Alan G. Hevesi's decision to use a state worker to drive his wife around, and his tardiness in reimbursing the state. That is being investigated by the State Ethics Commission, whose chairman is — Paul Shechtman, below.

Then there is the federal investigation into whether Jeanine F. Pirro, a candidate for attorney general, tried to secretly tape her husband. Ms. Pirro's lawyer in that case is none other than — Paul Shechtman.

And the state's lobbying commission is taking a look at whether some of the work that Mr. Faso, the Republican candidate for governor, did as a lawyer should have been reported as lobbying. The chairman of that commission, of course, is — Mr. Shechtman.
Mr. Nemazee and Mr. Shechtman are expected back in court on Nov. 4. Until then, Mr. Nemazee will be confined to his $20 million dollar penthouse on house arrest.