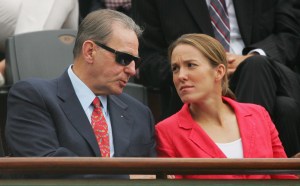 It's not long until the Kim Clijsters-Serena Williams semifinal. Considering the other side of the draw–Caroline Wozniacki and Yanina Wickmayer, seeded 50th in the world–the winner of this match is quite likely to be the winner of the Open.
The last time a player beat both Venus and Serena at the U.S. Open it was Justine Henin in her championship run in 2007. Clijsters has already knocked off a banged-up Venus, but Serena is going to be a considerably tougher match. How did fellow Belgian Justine Henin do it two years ago? Let's go to the Observer's U.S. Open blog archives! Henin revealed her strategy after defeating Serena in the quarterfinals:
"[Serena] loves to have the control of the rallies," said Henin. "She loves to be in the court. She doesn't like to be under pressure, especially on the forehand side…The key was to be really aggressive on the return. I think today she was feeling I was there on the return, and that was really important, too."
And, Henin said, the best way to disrupt Serena's rhythm is by coming to net. Henin, now retired, won 11 of 14 points from the net in that 2007 match.
Henin took herself out of her comfort zone, and there's no questions Clijsters will have to do the same. Clijsters and Henin are different players, but she's going to have to experiment tomorrow. This is her first Grand Slam appearance in over two years, and Serena is looking to win her third Slam of the year.