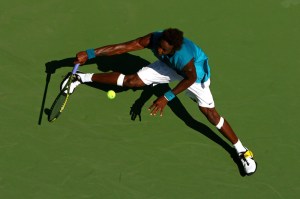 It was a bracingly Gallic morning on the Grandstand as 13th-seeded Gael Monfils took on his countryman Jeremy Chardy. I watched the third set with three 17-year-old citizens of the world, Phil from Argentina, Alex from Spain and Michael from England. Got that? Oh, and they're all part-French. Asked who they were rooting for, Phil joked, "The French guy!" But all three were there for Monfils, a charismatic, quick player who remains just shy of the very top of the game.
Monfils won in straight sets, 6-1, 6-4, 6-3, only needing an hour and a half to move on the second round. Monfils is coming off a wrist injury that kept him out of Wimbledon after he reached the quarterfinals of this year's French Open. After the match, he said he was feeling "completely much better, but I think I still have a little problem with my knee and I have to make sure. My wrist is getting better, so I'm quite good. But 100 percent? Not really."
"Not 100 percent" may not cut it as Monfils peers ahead to a potential meeting with Rafael Nadal in the fourth round, and his way of sliding around the court, while entertaining, can't be easy on those knees.
Monfils was a bit down on his serve: "Not too good, the serve. It was okay, 57, I think, percent." He'll want to push that number up, but it was just ahead of Chardy's percentage. But the unforced errors count told the whole story: Chardy had 40 to Monfils' 12. By the end, Monfils had earned his little robot dance off court, and hope remains that last year's Soulja Boy dance might be repeated: "Depends. I mean, depends, depends, because it change a little bit, dance, since Soulja Boy. So now, I don't know. Depends on my elation. Maybe. Why not?"