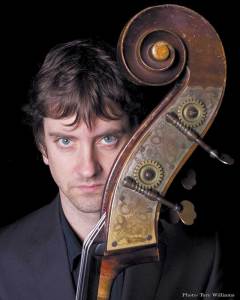 Phil Woods has been in business for almost half a century and in that time has made himself arguably the master of bop. His eponymous quintet, featuring Steve Gilmore and Bill Goodwin, are three-time Grammy winners and great and reliable performers of the American canon—as well as composers in their own right. They perform four nights at Birdland (Oct. 20-24).
Uptown at Dizzy's Club Coca Cola, E. J. Strickland, a favorite around here, leads a quintet on exactly the same dates. Our own Devin Leonard said of Mr. Strickland: "He has obviously absorbed a lot of post-Coltrane jazz from the mid-'70s, which was heavy on pentatonic scales, Third World rhythms and afrocentricity. But E. J. writes gorgeous counter lines for his horn players, and he keeps his soloists on their toes and rewards his listeners by constantly reshuffling the underlying grooves."
As part of its "Swing University" program, controversial poet and jazz student Amiri Baraka gives four nights of talks at Jazz at Lincoln Center. He's always an explosive figure, and his landmark book Blues People from 1963 was a game-shifter in jazz criticism. He's presenting material that will undoubtedly appear in his spring 2010 book, Digging: The Afro-American Soul of American Classical Music (Dec. 1, 2, 8 and 9 at the Irene Diamond Education Center at Lincoln Center).
Also not to be missed? Joe Martin with Brad Meldau and Mark Turner at the Jazz Standard on Oct. 7 and 8; the John Escreet Project with David Binney at Jazz Gallery on Oct. 10; and guitarist Lage Lund's live recording at the Bar Next Door on Oct. 3 and 9.
Maria Full of Grace
This Thanksgiving, jazz conductor Maria Schneider brings her orchestra back to Jazz Standard for its annual residency there.
Last year's residency was arguably the jazz event of the season, and critics and musicians who know what's happening in jazz all worship her. The Minnesota native earned her fame with the orchestra she established in 1992 that had a standing gig for five years at Greenwich Village nightspot Visiones, but since then, the Gil Evans–trained Minnesota native has won two Grammy Awards, including one for Concert in the Garden, which was released only on the Internet and was the first Grammy winner not to have been distributed on traditional formats.

The complex scores she writes for her 18-piece orchestra are among the most celebrated in the emerging "New Big Band" style. Read up on her and you'll feel you're dealing with someone a little challenging: How does it feel to be a circle in a Kandinsky painting? But Ms. Schneider's compositions, while complex, mostly are raved about for their beauty and broad appeal (Nov. 24 through Nov. 29).