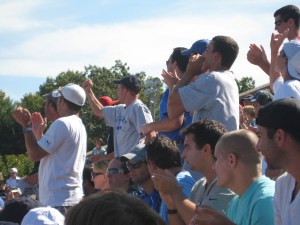 We've seen the J-Block and the Samurai. Now, enter the Witten Wall, the Open's latest loud, proud, largely male fan group, who cheered on Jesse Witten during his second-round win over Maximo Gonzalez, 6-7 (3-7), 6-4, 7-5, 6-2. Made up mostly of Witten's pals from his University of Kentucky days (he's a 2005 graduate), the Witten Wall may want to get a little more creative: at the moment, they just wear blue Wildcats shirts and chant "JES-se WIT-ten, clap, clap, clapclapclap." But what they lack in body paint and poetic cheers, they make up for in volume and beer.
Witten, a big, frat-boyish dude's dude who spent the beginning of the year doing Futures tournaments in tiny Texas towns, is tailor-made for a raucous fan cheering section. And he clearly appreciated the effort, even though compared to the Wildcats' basketball fans, he said, "I had five instead of fifty thousand."
"I had a good crowd," he said after the match, "and they pulled me through, 'cause I think they were really getting the other guy down and they really got in his head a little bit, so it gave me a little more energy."
Witten will need all the energy he can get for his third round match, which may well be against Novak Djokovic, who plays tonight.