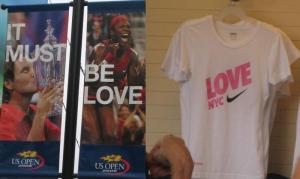 We have to admit that we've got questions about the motto of this year's Open, "It Must Be Love." We were a bit thrown when it began popping up in subway stations all over the city, and again when it was formally unveiled with great fanfare at this year's draw ceremony (there was a big video in which "It Must Be Spectacular," "It Must Be Sacrifice," and nearly a dozen other variations culminated in "It Must Be Love").
What must be love? The Open? Tennis? Is it some kind of explanatory excuse? Like, "It Must Be Love, Because Otherwise How Could Andy Roddick Wake Up In The Morning"? And who's supposed to feel this "Love"? The players? The spectactors? Is it alluding to the fortieth anniversary of the much-ballyhooed "Summer of Love"? We're sure the USTA intended all this delightful ambiguity. (We probably wouldn't be writing about the ads if the slogan were more straightforward.)
The "Love" may may have a straightforward commercial explanation, however. Nike is at the Open with a big line of merchandise based on the concept of–what else?–love. Nike's in love with "NYC," "Federer," "Nadal," everything! It's only natural that the USTA would want to join the ____-fest.