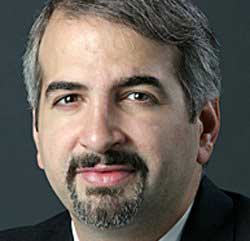 Hiring freeze be damned! The New York Times has poached The Washington Post's celebrated Mideast correspondent, Anthony Shadid.
"I have license to hire when there are extraordinary opportunities or essential jobs we can't fill from within," said executive editor Bill Keller to Off the Record in an email. "This meets anyone's test of an extraordinary opportunity."
Mr. Shadid told Editor & Publisher's Joe Strupp, who broke the news of the hire, that he will be joining the Baghdad bureau along with his wife, Nada Bakri. He won the Pulitzer Prize in 2004 for international reporting for his Iraq coverage, and this fact wasn't lost on The Post. Sources tell us that Post editor Marcus Brauchli put out all the stops, flew to London and tried to convince him to stay; his efforts didn't work.
Mr. Keller told us that Steven Lee Myers will remain the paper's Baghdad bureau chief, a title he received only in July.
"There will be plenty for Anthony to do in Baghdad—and he's abundantly versatile, in case news erupts elsewhere in the Middle East, as it has a tendency to do," said Mr. Keller.
Though the foreign desk's attention has been gravitating away from Iraq and toward Afghanistan and Pakistan in recent months—Alissa Rubin just left Baghdad to cover AfPak—Mr. Shadid and Mr. Myers will have company in the Baghdad bureau: The paper's media reporter, Tim Arango, is currently in general conflict training and will be coming to Iraq soon, Mr. Keller said. Marc Santora will complete his Baghdad tour by next spring.