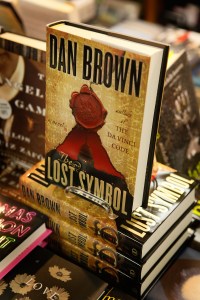 Has Vanity Fair brought Death of a President back to life?
According to the blog for online bookseller AbeBooks, William Manchester's 1967 account of the Kennedy Assassination, which was featured on the cover of Vanity Fair this month, has outsold Dan Brown's The Lost Symbol four-to-one on the company's website since the magazine came out.
Death of a President went quietly out of print after its big initial run, as the VF article explains, because the Kennedy family didn't care for it. The Kennedys had basically commissioned the book, giving Mr. Manchester a series of exclusive interviews in return for veto power and the rights to the final product.
After suffering through a breakdown from his exhaustive research, Mr. Manchester signed a huge deal to have the book serialized in Look magazine, which upset Jacqueline Kennedy, who had assumed it would be an academic volume that no one would actually read.
Jackie threatened to kill the book, but Robert was worried about the damage that might do to his own political reputation–since the story was already playing out on the front pages of the Post–so the family ultimately let it go to print. The book got decent reviews and it sold very well, but the Kennedys let it go out of print, and the story had basically been forgotten until Vanity Fair dug it up (for their third posthumous cover in a row).
Of course, it's less than certain that the reading public actually prefers an exhaustive account of a presidential assassination over the investigation of freemasonry by a fictional professor of a fictional field called symbology; The Lost Symbol is still number one on Amazon and Death of a President is still somewhere around number 7,000.