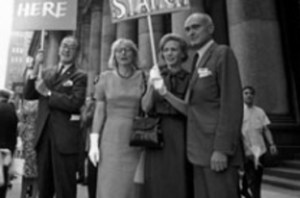 A reader poll by the web site Planetizen has named Jane Jacobs, author of The Death and Life of Great American Cities, the number one urban thinker. The idolized activist placed first by what the editors call "an impossibly wide lead." Frederick Law Olmsted came in at number four, Baron Haussman at 22.
Jacobs passed away in 2006, but this year she had quite a summer. In July, the city named a block of Hudson Street "Jane Jacobs Way"—Jacobs had lived at 555 Hudson while writing Death and Life, and immortalized the street's "sidewalk ballet." Later that month, Boston Globe reporter Anthony Flint published Wrestling With Moses, a compact account of Jacobs's battles with Power Broker Robert Moses.
Like the neighborhoods she championed, Jacobs might have started out scrappy, but she's now the establishment.