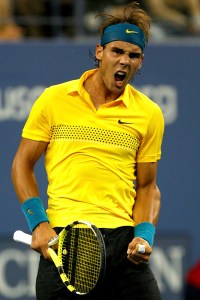 This is the first night we felt like Rafa Nadal might have a chance at the Finals.
We saw listless tennis in his first three matches, but last night, we saw championship Rafa in an incredibly fun, high-spirited match. After losing the first set to the super-energized Gael Monfils, Nadal stayed steady and returned each Monfils sling-shot with cutting backhands that kept him in every point. Finally, when Nadal got a break chance in the second, he secured it and then took all the wind out of Monfils' sails. It was vintage Rafa: When he saw Monfils was on the ropes, Nadal knocked him straight out of Ashe.
(Also, to follow up on our previous post about the slow pace of celebrity sightings: Rupert and Wendi Murdoch were in the house! As was Donald Trump. Tony Bennett. Nicole Kidman was back. And Michael Phelps was here. Guess everyone needed to wait for after Labor Day.)
In the other Ashe match last night, Serena Williams took care of Flavia Pennetta in two easy sets, which sets up the dream semifinal: Serena v. Clijsters. After the match, Serena was asked about Clijsters' movement.
"Seems like she's even faster than what she was before," she said. "I was thinking that maybe I should have a baby and then I'll come back faster."
Some other quick highlights from her decidedly batty press conference: When Serena has a baby, she said, she'll name him Wilson; when asked why she was wearing a T-shirt that read, "Serving Up Some Hot Damn," she said, "It means what it means, just serving up some hot stuff;" she said whenever she sees her face in photos after matches, particularly where she's got her game face on, she finds herself "pretty horrified."
To other matches! Fernando Gonzalez is going to his first U.S. Open quarterfinals since 2002. He defeated Jo-Wilfried Tsonga in four hard-fought sets. Juan Del Potro advanced after taking down Juan Carlos Ferrero in straight sets.