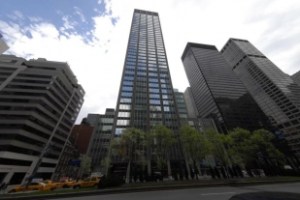 Top-shelf corporate law firm Bingham McCutchen is, oddly, looking for office space, even though it has two leases totaling 212,000 square feet that don't expire until the latter years of the next decade, according to industry sources, published reports and research database CoStar.
The firm has hired Cushman & Wakefield broker Mitchell Barnett to look for around 200,000 square feet, although the firm's lease for 145,500 square feet at Boston Properties' 399 Park Avenue doesn't expire until August 2017, according to CoStar.
The firm now occupies floors 19, 20, 21, 23, 24 and 26 at 399 Park, space that Bingham is seeking to sublet for a "negotiable" asking rent.
Meanwhile, Bingham recently merged with McKee Nelson, which in 2004 reportedly signed a 15-year lease for 67,000 square feet at One Battery Park Plaza. That means that the One Battery Park space would remain on the firm's balance sheet until 2019.
Mr. Barnett declined to comment for this article, and Bingham did not respond by press time. But the real estate strategy appears to be a somewhat risky one, relying as it does on the firm's ability to sublet a huge chunk of space in a down market, and to do so at a high enough rent for it to make financial sense to then add 200,000 square feet of new space to the firm's balance sheet.
Then again, it makes sense that the firm would want to consolidate its offices. And in a tenant's market like this, it doesn't hurt to look.
drubinstein@observer.com