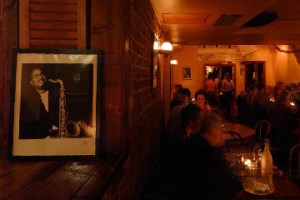 From the glamorous Pigalle Club to late-night venues off the beaten path, London's jazz clubs never miss a beat when it comes to great music, food, wine and cocktails. Here's the inside scoop on some of the best and lesser known venues, which I much prefer over the more obvious Ronnie Scott's.

The Pigalle Club
West End, London
The Pigalle on Piccadilly couldn't be more central if it tried. Vince Power, who founded the Mean Fiddler Group which owns a large number of London's music venues, is at the helm, and he sure knows what he's doing. The subterranean 1940s-style supper club authenticity is picture-perfect. Table service comes from staff dressed in costumes befitting the era; the wood and mirror decor is indicative of the glitz and glam of old; and occasionally big-name acts such as Van Morrison, Eartha Kitt and Shirley Bassey grace the stage alongside a cast of rising lounge and jazz talent. It's quite a large venue, but owing to its peculiar shape it still has that cozy jazz club vibe. Excuse the pun, but the modern European menu really plays second fiddle to the music, so eat first then grab a spot on the mezzanine for the best view of the stage (the side view can be a little restricted).
www.thepigalleclub.com | Phone: +44 (0) 20 7644 1420
215 Piccadilly | London W1J 9HN England
Octave
Covent Garden
What's great about this small and sophisticated venue is that it not only offers fantastic live music six nights a week, but it's also a great place to drink and dine. The cuisine has a modern European slant and gets good marks for its presentation and quality. If it's on the menu, opt for the fried chorizo entrée followed by the butterfish with mashed potato main: delicious. The service is attentive but not cloying and the cocktail list is impressive with some 70+ to choose from. Tucked away in a quiet part of Covent Garden, Octave is a relative newcomer to London having only been open since 2004. It can get very busy, especially at weekends, so arrive early and book a table ahead of time. The crowd is trendy and laid back, but annoyingly some people tend to chat during the performances. Check their Website before you go to see who's playing as the acts vary in jazz style.
www.octave8.com | Phone: +44 (0) 20 7836 4616
27-29 Endell Street | London WC2H 9BA England

606 Club
Chelsea, London
New Orleans soul in the heart of London. The 606 has pedigree—it's been around for 30 years and it's right up there with the big boys as one of London's best. Jazz fans often refer to that all-important element of "cool" and The 606 has it in abundance. This is how jazz clubs should be: hard to find (set in an industrial neighborhood near Chelsea Harbour's back alleys); an up-close-and-personal vibe with the artists; and cozy without being crowded. Even gaining entry has an element of mystery to it. At the gated archway, you're buzzed in via an intercom before descending a staircase into a bare-brick basement. What you find is beatnik-chic—low ceilings, exposed concrete, dusty curtains, and scruffy tables gathered around a non-stage (the band performs on the main floor). The food and wine selection are nothing to write home about, but the grilled halibut fillet with tomato coulis, fennel and zucchini is worth trying and there's a decent wine list.
www.606club.co.uk | Phone: +44 (0) 20 7352 5953
90 Lots Road | London SW10 0QD England
Pizza on the Park & Jazz @ Pizza Express
Soho, London
Brush aside any doubts the word "pizza" might cast upon your assumptions. Although this is far from the glitz and glamour of Ronnie Scott's or the Pigalle, this pairing packs a big punch when it comes to music. Especially Jazz @ Pizza Express which has, in recent years, welcomed guests such as Roy Haynes, Kenny Garrett, Scott Hamilton, Norah Jones, Jamie Cullum, Diana Krall, Amy Winehouse and Peter Cincotti. Clearly, pizza is not the only thing on people's mind. It had a refurb a few years back, which was probably needed seeing as it's been going since 1965. The stage is tiny, so you really get that intimate aspect that many of the larger clubs don't have, which is great considering it's in the heart of the West End. Unlike Jazz @ Pizza Express, Pizza on the Park is not a seven-day-a-week jazz joint. The performers are usually lesser known and only appear a couple of times a week. It is, however, a candlelit basement but of much larger proportions. As it's owned by the same booking company, it too had a major renovation a little while ago. The Italian menu is simple and the wine list covers both New and Old World well for a pizza place.
www.pizzaexpresslive.co.uk | Phone: +44 (0) 8456 027 017
10 Dean Street | London W1D 3RW England
The Brickhouse
Brick Lane, London
Although not strictly a jazz-only establishment, this restaurant-cum-supper club is still well worth a visit, especially as it's housed in such an interesting building and located in such an intriguing part of town. The converted warehouse space in Brick Lane's Old Truman Brewery is long, tall and unusually bright for this sort of venue. It's set on three levels with the uppermost of these acting almost as a viewing gallery, but one with beds! The entertainment varies from week to week, so check the Website before venturing here—jazz acts share the billing with circus acrobats, sexy burlesque dancers, hip hop choreographers, and comedians. Tip: opt for the dining experience on the middle floor and choose the red mullet with crab tortellini and Bouillabaisse sauce.
www.thebrickhouse.co.uk | Phone: +44 (0) 20 7247 0005
152c Brick Lane | London E1 6RU England

The Boisdale Jazz & Cigar Club
Belgravia, London
Seeing a late-night jazz show here is the easiest way to get into this private member's club without being a member. Located in a Belgravia townhouse, near Buckingham Palace, Boisdale's main features are meat, smoke, whisky and jazz. It's primarily a restaurant and member's club, but a little known secret is that for a nominal "jazz charge," non-members are allowed to dine in the restaurant or position themselves at the bar after 10 p.m. to see the house band. Richard Pite's Boisdale Blue Rhythm Band is a quartet/quintet that plays '30s to '50s-era jazz and blues. Chesterfield sofas are filled with business execs, ex-pats and university graduates, many of whom will retire to the cigar terrace on the top floor to sample one of the hundreds of Cubans available. And then there are the cocktails, wines and whiskies; again, literally hundreds to choose from. You can book ahead for a dinner table, but you'll have to take your chances if you just want a first-come, first-served spot at the bar. The fare is mainly Scotland-sourced, so steak and wild salmon are a must, unless the haggis and neeps take your fancy.
www.boisdale.co.uk | Phone: +44 (0) 20 7730 6922
15 Eccleston Street | London SW1W 9LX England
Suzanne Aaronson, Co-founder of Suzanne's Files, is our Travel Curator. Stay in-the-know on her latest finds and insider tips by signing up to receive Notes from Suzanne's Files, a free e-newsletter.