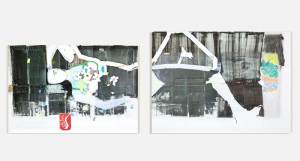 Looking at Magnus Plessen's paintings feels like squinting through fog: Almost everything is white and what isn't looks muted and milky. The German painter debuted his work in the United States at P.S.1 back in 2002, and has since had three solo shows here, all of them at the Gladstone Gallery (515 West 24th Street). Comparing this one, on display until Oct. 24, to the first two, you get the impression that Mr. Plessen is trying to use less paint each time he exhibits. The best of his new work shows two men standing against a fence and a third sitting expressively on the back of a trunk. "Shows" is used liberally here, because even at his most representational, Mr. Plessen leaves so much blank. And yet he gives you just enough that your eye automatically fills in the empty spaces. The uncommon amount of white on these canvases serves to evoke early morning, and to make the colors Mr. Plessen does use—a lot of browns, yellows and pale reds—that much richer.
Frankly, My Dear
Over at the Met, you can see all the images that make up Robert Frank's landmark 1959 book of street photography, The Americans, in a 50th anniversary show running through Jan. 3, titled "Looking In." Through Nov. 3., you'll also be able to see the marble sculpture The Young Archer, controversially attributed to Michelangelo in 1997. But the centerpiece of the Met's fall season might be its Vermeer exhibition, on view through Nov. 29, featuring arguably the most famous of the artist's 36 known works, The Milkmaid, on loan from the Rijksmuseum in Amsterdam on the occasion of the 400th anniversary of Henry Hudson's voyage to New York. The show also includes five other Vermeers, and if that's not enough for you, simply walk six blocks down to the Frick Collection, where you can see three more.
While you're at the Frick, you might want to take a peek at the big fall show there—opening Oct. 6 and on view through Jan. 10—which collects some 60 drawings and watercolors by masters of the French School such as Edgar Degas, Eugène Delacroix and Jean-Auguste-Dominique Ingres.
Both the Whitney and the Guggenheim are going all in for early modernism this fall, with big shows for Georgia O'Keeffe at the former and Wassily Kandinsky at the latter. The O'Keeffe exhibition (which runs through Jan. 17) is focused on the painter's abstract work, which will come as a surprise to anyone who associates her primarily with vaginal flower pictures and landscapes from the American Southwest. The Kandinsky show at the Guggenheim (through Jan. 13) is more of a straightforward retrospective, the first at the museum in about 20 years.
If you're more in the mood for early modernism, head to the Neue Galerie on 86th Street, where you can see a show honoring the museum's co-founder, Serge Sabarsky, that will feature works by Paul Klee, Gustav Klimt, Otto Dix, Ernst Ludwig Kirchner and others. The show will run from Oct. 15 through Feb. 15, and will be accompanied by a pair of lectures organized in conjunction with the Guggenheim and MoMa: one titled "The Modern Moment" on Oct. 22, by Ann Temkin, MoMA's chief curator of painting and sculpture, and another on Nov. 12 called "Multiple Modernisms," by Rose-Carol Washton Long, art history professor at CUNY Graduate Center.
Speaking of MoMa: Another small gem of a show this fall is "Monet's Water Lillies," which runs there through April 12 and features a pair of lovely massive canvases along with a handful of smaller ones that the artist completed near the end of his life. Starting Nov. 8, MoMA will host its first comprehensive exhibition on the Bauhaus school since 1938. And on Nov. 22 the museum will mount a career retrospective on Tim Burton that will feature drawings, paintings, props, costumes and storyboards and will be accompanied by a film series.
In Chelsea, meanwhile, make sure to stop by the "Andy Warhol on Paper" show at Van de Weghe Fine Art, and the Dennis Hopper photography retrospective at the Tony Shafrazi Gallery, both of which run through Oct. 24. And if it's contemporary art you're after, don't miss George Boorujy's eerie, atmospheric ink drawings of animals and rock formations at PPOW Gallery (through Oct. 24) or, downtown, the dreamy, sketchy paintings by the Belgian Caragh Thuring at the Simon Preston Gallery (through.
Finally, the Urs Fischer takeover of the New Museum that opens Oct. 28—featuring "towering monuments, tangled abstractions, and a labyrinth of mirrors," according to the official description—should be a sight to behold.