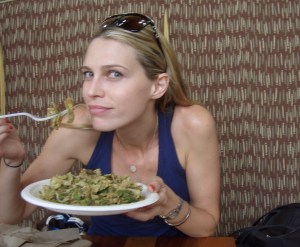 On Monday afternoon, when Tommy Haas was struggling in an opening round match, his fiance, Sara Foster, was following every point intently. She kind of sounded like a coach when she shouted things like "Small steps, Tommy! Small steps" and "Keep loose, keep loose" or when she shook her head in disgust after a double fault. She didn't doesn't exactly paint the portrait of the bored, sleepy, self-promotional tennis trophy-mate.
At Wimbledon, she was criticized for chewing gum during Haas' match–described by the Guardian as "chewing so nervously it looked like she had it all over her nose and ears"–and not looking the role of the say, the model or actress that she is.
"You're going never going to see me wearing lots of makeup, you're never going to see me with my hair done, you'e never going to see me in some little outfit with my boobs sticking out," she said, when I sat down for lunch with her on Thursday afternoon. "I got a lot of flack at Wimbledon for chewing gum! [ESPN analyst Brad] Gilbert gave me some shit. I was chomping it! And guess what? Hey, I was! I'm not there to look pretty. I'm not there to look like the blonde in the box. I could give a fuck."
But you kind of think she would: Her father is a famous record producer, she was listed as one of Maxim's hottest girls, she was one of Vinny Chase's lovers on Entourage and she introduced Demi Moore to Ashton Kutchner.
Instead, she chooses to be unfussy. (She ate an entire plate of bowtie pasta with pesto sauce in front of a reporter with a notebook and a digital camera, for example.) But even if she had some bags under her eyes during Wimbledon–which she refused to blot out with some make-up cake–she looks pretty great anyway.
Starting in 2007, she began regularly attending Haas' matches. She learned tennis. Now, she can practically recite the entire men's draw and size up the strengths of each men's player.
Haas has been a longtime hottie on the men's tour, so we were wondering: How did she snag him?
It turns out, back in 2004, she was at her friend's apartment in the city and she saw Haas on television. She liked what she saw.
A couple of years later, Haas was having dinner with mutual friends. She ran into them. She met him and put two and two together (You're that hot tennis player!). She was moving temporarily to Prague to shoot a movie, and he was traveling everywhere for tennis. They became email buddies.
Tommy, it turns out, was the best emailer a girl could dream of.
"He's very proper," she said. "He never crossed the line. He was always the perfect gentleman. There was never a 'Hayyyy, send me a pic!'"
Well played, Mr. Haas!
This past December, on Christmas Eve, Tommy Haas dropped to a knee and asked Sara to get married. Now she's got a big diamond ring on her hand.
Can we expect a big wedding, with Demi and Ashton in tow?
"It'll be a thing like, 'Hey next Tuesday, should we get a preist here?' There won't be a wedding dress or anything."