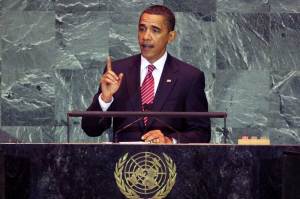 This past Sunday morning, President Barack Obama was on everywhere you looked on TV–except, of course, on Fox (sorry, Chris Wallace!).
So with the booking advantage effectively neutralized, who would triumph in the ratings?
In the end, it was David Gregory who came out on top.
On Sunday morning, NBC's Meet the Press attracted 3,290,000 total viewers and 1,070,000 in the 25 to 54 demo, narrowly topping ABC's This Week with George Stephanopoulos (3,080,000 total viewers; 1,010,000 in the demo) and CBS' Face the Nation with Bob Schieffer (2,740,000 total viewers, 900,000 in the demo).
In D.C., Meet the Press' relative advantage was even greater.
From NBC's press release:
In Washington, D.C., "Meet the Press" won with 108,000 viewers (4.1/12 HH) more than all the competition combined. The NBC program had a +125% lead over ABC's 48,000 (1.8/5 HH), +414% more than CBS' 21,000 (0.8/2 HH), and a +272% advantage over FOX's 29,000 viewers (1.2/3 HH).