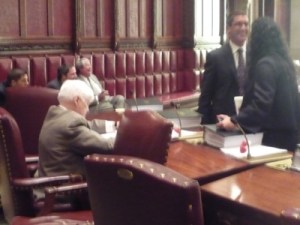 ALBANY—State Senator Tom Morahan skipped the traditional pre-session conference with his fellow Republicans today as he prepared to break ranks and be a 32nd vote on the winterization incentive package being considered today.
Morahan, from the Hudson Valley, wrote an op-ed piece today explaining why he will vote for the package, becoming a publicly declared yes. Earlier today, Republican Leader Dean Skelos said on the radio that the measure "will probably pass, unfortunately, because it's really just a 112 million spending spree by Democrats at a time when we have a $2.1 billion deficit."
(The program is financed by proceeds from the regional greenhouse gas initiative auctions, which are off-budget.)
One Senate source said Morahan skipped conference "because he didn't want to deal with the grief he knew he was going to get."
I found Morahan sitting in the chamber, where he was counted toward a quorum. He said there was "no particular reason" he skipped conference.
"I'm just, you know, I reviewed the legislation, I understand the proposals and I know how I'm voting. I think it's better to get some work done," he said.
Republicans were filing into the chamber as I walked out. It's unclear if others will break party ranks to vote yes on the legislation, which is being backed heavily by the Working Families Party.