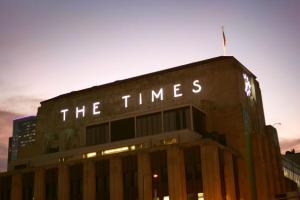 The L.A. Times' lead web editor, Meredith Artley, is leaving the paper to become the managing editor at cnn.com, the Observer has learned.
Ms. Artley is yet another high profile departure for the newspaper in just the last few weeks. The L.A. Times' online entertainment editor, Richard Rushfield, recently left for Gawker. Kate Aurthur, the paper's television editor, left for The Daily Beast. We've also heard that two business-side people were let go in the last week: the head of online adveritisng, Juliana Jaoudi, and the head of online entertainment advertising, Jennifer Van Hook.
Ms. Artley declined to comment when reached on the phone, but her job at CNN.com is believed to be the top job at the web site. Like the other recent departures, this will only serve as a further blow to the Times. Since she took over lead duties at latimes.com, the web site's traffic has skyrocketed. Ms. Artley was also part of the team responsible for the site's well-received redesign, and its nimble and breaking coverage of Michael Jackson and the fires that have broken out in California.