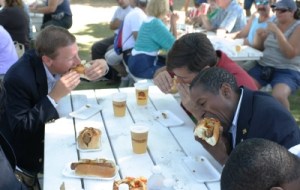 The amount local governments have to contribute to pension costs will go up starting in 2011, which will likely raise your property taxes.
Many localities saw this coming.
E. J. McMahon points out that there will be even larger increases in the out-years.
John Faso, a former Republican candidate for comptroller, said that the proposed Tier V reform won't go far enough.
David Paterson said that New York needs money from Wall Street bonuses, even if attacking them (as Andrew Cuomo did) is politically popular.
Paterson also sparred with State Senator George Maziarz, likening him to a "caveman."
Jay Walder said he won't push for congestion pricing as head of the M.T.A.
Sheldon Silver doesn't see an Eliot Spitzer run anytime soon.
Spitzer is earning as much as a CUNY adjunct professor can, but will donate the salary back to the school.
Empire State Development will let the Empire Zone program die.
Jude Seymour parses political story-shopping.
Representative Mike McMahon is being pressured to return a donation from Representative Charlie Rangel.
Representatives Nita Lowey and Carolyn Maloney are among the wealthiest members of Congress.
The Post writes about Clemmie Harris, a Paterson aide who billed over $15,000 in hotel expenses.
The executive director of the Monroe County Republican Party was indicted in connection with the Robutrad scandal.
Bovis Lend Lease, the company linked to the Deutsche Bank fire, got a $6 million stimulus contract.
Log Cabin Republicans love Assemblywoman Dede Scozzafava's Congressional candidacy.
The Plattsburgh Press-Republican is mad David Paterson vetoed a commission commemorating the War of 1812.
Anchor Brian Taffe is leaving Capital Tonight.
Chuck Schumer is pushing dairy subsidies.
Representative Scott Murphy told people at a forum that he pays $359 a month for health insurance.
Representative Maurice Hinchey is fighting to keep a contract for presidential helicopters in his district.
In his reelection bid, Buffalo Mayor Byron Brown has the backing of lots of some high-profile friends.
The mayor of Cohoes was appointed to head the state heritage council.