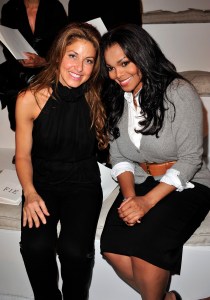 The front rows of the Ralph Lauren show on the morning of Thursday, Sept. 17 were, as usual, separated by magazine: From Vogue, there was Anna, Grace, Sally, Tonne; from Elle, there was Robbie Myers and Kate Lanphear; from New York, there was Adam Moss, Harriet Mays Powell, and Observer alumna Amy Larocca; from Marie Claire, there was Joanna Coles, Nina Garcia, and Zanna Roberts; and from Vanity Fair, Graydon Carter and Amy Fine Collins.
But then there was the designer's "family row. "There sat mom Ricky, daughter Dylan of Dylan's Candy Bar, sons Andrew (a film producer) and David (who works for his father), and David's girlfriend, model and designer Lauren Bush. Shortly before the show began, Janet Jackson, wearing a black pencil skirt, a white blouse and gray sweater, all of this neatly belted together, was brought out and seated between Andrew and Dylan. He appeared shy, but Ms. Lauren seemed excited by the pop-star's presence.
As the show began, Ms. Lauren and Ms. Jackson discussed each piece as it came out: heavy-duty denim paired with feminine blouses; pretty cotton summer dresses; and masculine pinstriped suits with newsboy caps. Each time a model strutted by the pair, Dylan would whisper something in Janet's ear and then rub her fingers together in that way that suggests the particular feel of a fabric. Then Janet would rub her fingers together too in response. And so there would be moments when both women were fiercely rubbing their fingers and whispering into each other's hair. Then they would both nod at each other and smile.
When the long, silk dresses came out, Janet actually mouthed, "I LOVE it," so clearly that the Transom could read her lips from across the room.