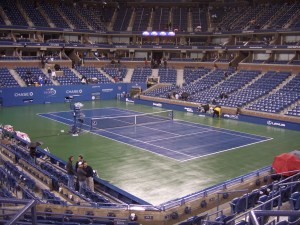 The match has been postponed. The announcement came moments after the court had been completely dried and the ballboys made their way onto the court. The public address announcer explained to the remaining fans that another heavy rain storm would be approaching within 15 minutes. Everyone booed.
We will update once we hear about contingency plans, but for the time being this is a nightmare scenario for the USTA. If we get washed out entirely tomorrow–and if you look at the forecast at this hour, it seems like a distinct possibility–it means that the men's final will have to spill over to Monday for a second straight year, which is a massive headache for tickerholders, CBS, the USTA, everyone.
Everyone is going to be glued to the forecast all day tomorrow, and if the rain breaks at any point, we could have several matches going on at once–the resumption of this match, and both women's semifinals matches.
Stay tuned!