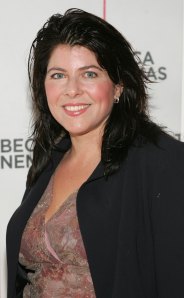 Naomi Wolf is going back to her roots. The journalist and author, who has seemingly been on a break for the past couple of years from writing books on the kinds of feminist themes that made her famous in the early 1990s, has signed on with the Ecco Press for a project tentatively titled A Cultural History of the Vagina.
Ms. Wolf was represented by lit agent John Brockman. Neither was not available for comment. In her last three books—one a memoir about her father, the other two polemics on American politics—the author has departed from the area of expertise she established early on with the internationally bestselling The Beauty Myth and reinforced with subsequent efforts such as Fire With Fire: The New Female Empowerment and How to Use It, Promiscuities: The Secret Struggle for Womanhood and Misconceptions: Truth, Lies and the Unexpected on the Journey to Motherhood.
She last made a big splash with a 2004 New York magazine story that recounted her experience of sexual harassment at the hands of professor Harold Bloom while a student at Yale.
More from Leon Neyfakh:
After Times Kennedy Leak, Hachette Hires Private Dick