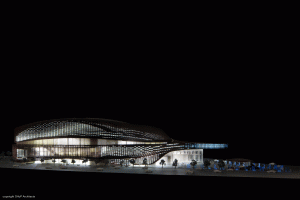 The consensus on yesterday's renderings of the new Atlantic Yards' arena — with its futuristic, clamshell shape and weathered steel facade – seems to be that the new design is, well, passable.
In the Times, Nicolai Ourusoff said the latest proposal for the Barclays Center, designed by Manhattan architecture firm SHoP, is "somewhat more promising" than the last set of drawings — by the Missouri-based firm Ellerbe Becket — which were widely panned for looking like a good place to park aircraft. But he spent much of the article reminiscing about the original design by Frank Gehry. The Post's praise was even fainter: "Well at least it's not an 'airplane hangar.'" (Develop Don't Destroy Brooklyn, an avowed opponent of the project, called the design "lipstick on a corrupt pig.")
Our own Eliot Brown puts the critiques in context with a slideshow on the project's aesthetic evolution, which shows just how high — then low — Bruce Ratner set the bar for SHoP, which had the unenviable task of designing a façade for the arena in the shadow of Gehry, and had to do it in a rather swift two or three months.
While the new design may temper charges that Ratner pulled an epic bait-and-switch when he dumped Gehry earlier this year, the bean counters at the Independent Budget Office have already obscured the luminous glow of the new drawings. In a report issued today, the IBO said the arena will cost the city nearly $40 million dollars over the next 30-years. In 2005, the IBO had estimated the city would net a modest gain on the project. The city says it's a "sloppy" report.