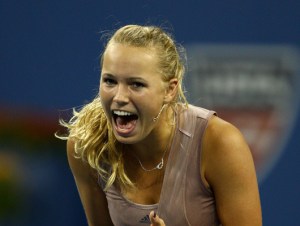 Monday's night session featured a teenager defeating a more seasoned Russian foe. Down the first set, she rallied through tiebreakers to win the match.
Sound familiar?
The scene played out during the day on Ashe, as Melanie Oudin beat Nadia Petrova, and then repeated itself on the same court at night, with Caroline Wozniacki in the Oudin role and Svetlana Kuznetzova playing the fallen Russian champ. Wozniacki prevailed by a hair, 2-6, 7-6 (7-5), 7-6 (7-3). Now Wozniacki plays…Oudin.
And Novak Djokovic, playing very solid tennis, didn't have a problem with Radek Stepanek. He won handily, 6-1, 6-3, 6-3. Now it's on to the meaty, mighty Fernando Verdasco in the quarters.