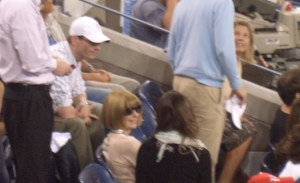 The U.S. Open is like a warm, cozy oasis away from these trying economic times.
Despite sky-high prices for tickets, the Open once again broke an attendance record last night with 24,206 people filing through the National Tennis Center gates last night.
And you'd never know that McKinsey was very interested in talking to the leaders at Vogue, either! Anna Wintour was in Roger Federer's player box last night, with her trademark sunglasses, as Federer rather easily dispatched Simon Greul 6-3, 7-5, 7-5.
Oh, remember that Federer fatigue we were speaking of? Definitely not proving to be true in the first two rounds! If anything, his Apollo Creed-like strut around the Flushing tennis campus has been completely embraced. And he's looking as good and relaxed as ever.
After his match last night, he took to ESPN's patio outside the south entrance of Ashe and a crowd of a few hundred gathered and cheered his every word.
Meanwhile, in other matches last night: Serena Williams destroyed Melinda Czink 6-1, 6-1 and Lleyton Hewitt ran right through Juan Ignacio Chela 6-3, 6-3, 6-4.
Hope Lleyton enjoys the victory–he's got Apollo Federer in the third round.