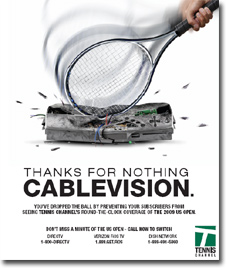 The execs at the Tennis Channel need a little lesson on how the Dolans work. We're here to help you!
First, a little background. The Tennis Channel is a relatively new, 24-hour tennis network, much in the same style as the NFL Network. They're out here at the U.S. Open and broadcasting matches on the back courts (ESPN2 gets the bigger matches). They even have Martina Navratilova as a color analyst, which makes us nostalgic for HBO's coverage of Wimbledon back in the 90s.
The only problem is not many people can see it. Cablevision subscribers don't have the option of picking it up (unlike Time Warner viewers, who could get it if they shell out a little extra money).
So the Tennis Channel has been taking out ads in the Times and on the radio, with the slogan "Cablevision, Thanks for Nothing!" This ad helped generate some publicity and some low-level controversy when The Tennis Channel tried to buy space in the Dolan-controlled Newsday.
But the Dolans aren't going to be scared off by Poytner Institute journo-ethics handwringers.
A lesson for The Tennis Channel folks: The Dolans love to fight. These are the same guys who, for years, imposed absurd restrictions on beat reporters for the Knicks, and who responded to complaints by making the restrictions even tighter. And their track record of engaging in public fights with fledgling sports channels is well documented.
So bravo and all for running that ad, but it's probably not going to achieve the desired effect. Some people just don't get embarrassed by anything.