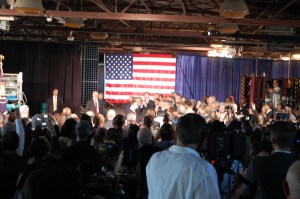 TROY—Barack Obama is here, and so is the elephant in the room: his urging, through an aide, that David Paterson not run for governor in 2010.
After a quick introduction by second lady Jill Biden, Obama entered the room and shook hands with the politicians who sat in a pen to his left.
The first to shake the president's hand was Representative Paul Tonko, whose district we're in and who sat closest to the president. In the front row, the seating went: Representaive Maurice Hinchey, Representative Scott Murphy, David Paterson, Tom DiNapoli (whose name Obama mispronounced), Senate Democratic Leader John Sampson, Attorney General Andrew Cuomo, Assembly Speaker Sheldon Silver (who arrived about 90 seconds into Biden's speech, prompting waves from his fellow politicos), Assemblyman Ron Canestrari and June O'Neill, the outgoing Democratic State Chairwoman. She spoke for a solid minute with Paterson once he sat down. Sampson chatted with Cuomo and DiNapoli and Murphy chatted with Paterson. The governor was in place when Cuomo arrived.
Obama introduced the "special guests" starting with Paterson, a "wonderful man."
"And the shy and retiring attorney general, Andrew Cuomo," Obama said, to laughs. "He's doing a great job enforcing the laws of this state."
Then he began his speech, about how he will strengthen community colleges.
"The nations that out-educate us today will out-compete us tomorrow," Obama said.