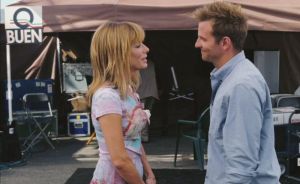 And so Labor Day is finally upon us. What a long strange trip this summer movie season has been! What began all the way back in May with X-Men Origins: Wolverine, officially draws to a close over the holiday with three moderately high-profile films finding home on the dumping ground. As we do every Friday, here's a handy guide to the new releases.
All About Steve
What's the story: Between The Hangover and The Proposal, Sandra Bullock and Bradley Cooper saw their summer blockbusters gross $430 million combined. Figure All About Steve to come in with slightly less. Originally scheduled for spring and then moved to Labor Day— otherwise known as the place where movies go to die—Steve finds Ms. Bullock starring as an "eccentric crossword puzzler" (seriously, this is a title) who travels the country stalking Mr. Cooper's news cameraman after one blind date. Naturally, the reviews have been scathing, so we'd say don't bother unless you're a member of Ms. Bullock's fan club. And even then, just see The Proposal again.
Who should see it: Will Shortz.
Gamer
What's the story: Speaking of summertime stars … Gerard Butler, who used his gruff charm to help The Ugly Truth win at the box office, returns with the ridiculous-looking Gamer. Sometime in the near future, human beings can control other human beings inside a live-action multiplayer video game. O.K.! Mr. Butler stars as one of the unfortunate people being controlled, and Dexter's Michael C. Hall shows up sporting a James Carville accent to play the game ringleader. Since this comes from the guys behind Crank, expect the excess to come at you in droves.
Who should see it: Anyone who has ever played Call of Duty.
Extract
What's the story: You know Mike Judge has had a tough career when his newest film gets released on Labor Day and that counts as a step up from his previous one, the barely seen Idiocracy. The Office Space director's latest, Extract, sends the milieu back to the workplace, only this time it centers on the boss, played by everyone's favorite straight man Jason Bateman. The rest of the cast is equally impressive—Ben Affleck, Kristin Wiig, J. K. Simmons and Mila Kunis all co-star—but if we know Mike Judge, Extract will probably have its moments, but on the whole be a disappointing effort.
Who should see it: Bill Lumbergh.