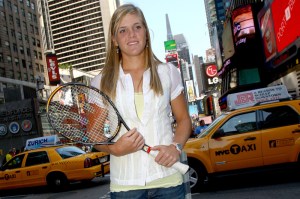 We are shielding our eyes from the "embarrassing" (CBS' word, not ours) blowout that Kateryna Bondarenko is currently executing against Gisela Dulko…on Arthur Ashe, no less. (It's 6-0, 5-0 as we write this.) (UPDATE: 6-0, 6-0. Yikes.)
That means that Melanie Oudin will get an early start–she's the next match up on Ashe. Certainly Nadia Petrova, while ranked 13th in the world, isn't a better player than Dementieva or Sharapova, so maybe we (and everyone else) will be able to avoid using the word "improbable" if Oudin wins yet again.
Also as we write, Robin Soderling has just won a hardfought first set over Nikolay Davydenko, 7-5. Soderling is having a great run here, though whomever wins this match gets to meet the winner of the Federer/Robredo match later today. We wonder who THAT will be.
And last, but certainly not least, is the fourth-round matchup between two players who survived five-set marathons in the last round: John Isner and Fernando Verdasco. We like Verdasco's chances here–the leftie thing might diffuse the power of Isner's forehand–but, really, anything can happen.