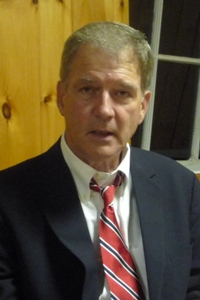 ALBANY—A Republican operative called to point out that Bill Owens, the Democratic Party's designee to replace John McHugh in Congress, was involved in a company accused of short-changing shareholders in a stock offering and failing to pay some taxes.
Owens still serves served (and has since the early 1990s) as a director of Champlain Enterprises, the parent company of Commutair, which provided air flights to Plattsburgh before pulling out in 2007. It was sued in 2001 by two members of the employee stockholder plan that claimed they were sold overvalued shares. The case—which named Owens as a defendant, along with Champlain, its owners and a third-party that calculated the value of the stock offering in question—has been dismissed and upheld in various decisions, and is currently pending before Federal District Judge David Hurd.
The employees who filed the suit claimed that Owens, as a director of the company, had a fiduciary duty to prevent and correct the mistake. (A good roundup of the court documents is here.)
Jon Boughtin, a spokesman for the Owens campaign, pointed out that Owens was eventually removed as a defendant. The suit now focuses on the third-party that valued the stock offering, U.S. Trust Company.
Also, at one point in the 1990s prior to the filing of this suit, the Internal Revenue Service sought over $100 million in taxes and penalties related to the misevaluation of the stock offering. Owens represented Champlain in the resulting litigation, which was settled in 1999 for $658,727, plus interest.
"Bill Owens is doing everything he can to fly under the radar in this race, but voters have a right to know about his role in overseeing a company that admittedly short-changed American taxpayers by over one million dollars," said Paul Lindsay, a spokesman for the National Republican Congressional Committee. "In trying economic times like these, such an irresponsible business failure raises serious questions about what else Owens is trying to hide from central and northern New Yorkers who know so little about him in the first place."
Owens, as well as Conservative Party designee Doug Hoffman, has not filed the required personal financial disclosure form.
Boughtin said that "this is a deceitful, partisan attempt to connect Bill Owens to mistakes made by a third party. U.S. Trust failed to live up to its responsibilities, resulting in the federal tax liens. Bill Owens had no ownership in Champlain Enterprises or U.S. Trust."
"These misleading attacks are a desperate attempt by Republicans to distract from Dede Scozzafava's family business's outstanding tax liens—something she has offered contradictory answers on for almost two months," Boughtin said.
The Republicans raise this issue about Owens after seeing their own candidate, Dede Scozzafava, dogged by stories about her connections to a troubled business run by her brother, the latest of which (by North Country Public Radio's David Sommerstein) hit the airwaves this morning.
UPDATE: Boughtin called to say that the bio on Owens' law firm site is outdated; Owens resigned from the board of Champlain Enterprises in October, 2008.