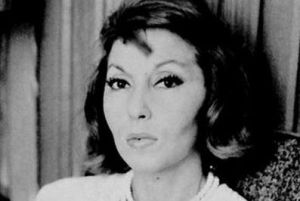 "When I met Ben many, many years ago, the first thing he told me was about Clarice," said Dutch novelist Arthur Japin. "I don't know if it was our first date, but it might have been."
Mr. Japin was talking about his partner Benjamin Moser, the "New Books" columnist for Harper's and the author of Why This World, a new biography of the Brazilian author Clarice Lispector. The publication of Mr. Moser's book was celebrated last night in the grand lobby of Oxford University Press on Madison Ave. at 34th Street, in the form of a party co-hosted by Oxford and the Brazilian consulate that improbably drew a crowd of around 200 people.
Mr. Japin, the author of historical novels In Lucia's Eyes and The Surrender, is no stranger to the romance between writer and subject. "It's like you meet someone across the room," he said. "Suddenly there's something about this life that appeals to you so much. As you start writing the book you start finding out what it is. Of course usually it's because you recognize something of yourself in that life, as it is in the real world when you fall in love with someone."
Mr. Moser's book runs to nearly 400 pages before notes and indices. It has drawn lavish praise from reviewers for introducing Lispector, who died in 1977, to American audiences. Mr. Moser's mother Jane, who, as the operator of Houston's celebrated Brazos Bookstore, is no stranger to coolly evaluating the season's hyped biographies, preferred a more objective measure of quality.
"The first thing I noticed about the book is something Ben taught me to do, and that is: On a biography, look at the bibliography," Ms. Moser went on. "It teaches you about how well it's researched. I never did this many footnotes in high school, college, and graduate school combined."
Lispector, so famous in Brazil that her novels are sold by vending machine in the subway, was born in the Ukraine in 1920 to Jewish parents who endured a series of pogroms before fleeing to Recife when Clarice was a baby. Her mother was infected with syphilis after being raped by a group of Russian soldiers and died when Clarice was nine. At 23, Lispector published her first novel, Near to the Wild Heart, to critical acclaim. After spending the next 15 years in stultifying and silent exile as a diplomat's wife, the beautiful and aloof Lispector returned to Brazil and to writing. Before her death at 56 of ovarian cancer, Lispector produced a body of work that Brazilians consider a national treasure but that is rarely read in the U.S.
Tracy Mann, who works for a P.R. firm that represents prominent Brazilian musicians like Gilberto Gil, thought it was about time that American readers learn about Lispector. "There's a sophistication," Ms. Mann said of Lispector's writing. "It's not so much about the roots, the land. It's more about the intellect, and a woman's emotions."
Ms. Mann notwithstanding, Lispector was a mystery for most of the crowd. "I don't know a damn thing about her except she had great lips," said a publicist from another publishing house, looking at the striking photo of Lispector on the cover of Moser's book.
"She's hot, in all ways," said Eliza Slavet, author of Racial Fever: Freud and the Jewish Question.
Mr. Moser, dressed in a tab-collared jacket of scarlet Chinese silk embroidered with black flowers, explained the circumstances under which he began studying Portuguese while an undergraduate at Brown. "I flunked out of Chinese after two weeks," he said. "I sucked at it. I sat in the language lab making noises and I thought, 'Give me something with an alphabet.'"
"It's weird," he continued. "It was actually the thing that was the most useful of anything I learned in college, because no one knows Portuguese and so I made a lot of money just translating."
Now Mr. Moser, who lives with Mr. Japin in the Netherlands, knows 10 languages. He's fluent in about six, "depending on the day."
Party host and Oxford publisher Niko Pfund, meanwhile, was beaming. He carried around two battered paperback Lispector novels, published by New Directions, to proffer to inquisitive guests.
Mr. Pfund seemed pleased at the party's turnout, which was estimated to be 200 people. "This is absolutely the largest book party we've ever had in the lobby," he said.
Are all Oxford book parties held here? "Not all the time," Mr. Pfund said. "This is not a necessarily auspicious space to have a book party in. It can seem very empty." Still, "it's less uncommon than it used to be," he said. "We're doing it more than we used to, for obvious reasons."
Despite the recession's effect on the academic publishing market, Pfund said that Oxford had set aside some of its habitual restraint for Moser's book, knowing it would make a splash. "This is one of those books where you're just like, 'What the hell, let's just do this right and not worry too much about margins and all this other stuff.'"