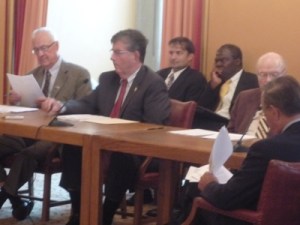 ALBANY—The residential parking permit plan for the city is officially dead today, but it may rise again.
"I think it's in the process of being pulled," State Senator Neil Breslin, the sponsor, told me before walking into conference. "I'm still looking for some Republican support because I don't understand how there could be unified opposition to it when 16 other plans similar in nature, across the state, have been approved."
He added: "If we don't do it today, we'll do it when the governor brings us back. It's my understanding that all the Democrats are for it."
The problem for Breslin is that one of them, State Senator Brian Foley, is not here.
One of Breslin's neighboring colleagues, Republican Hugh Farley of Niskayuna, said he would "probably not" vote for it, noting, "Those are all my constituents that park there."