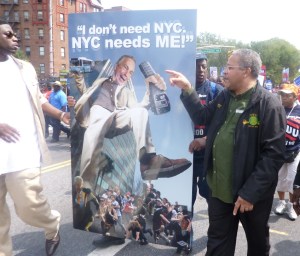 At the West Indian Day Parade in Brooklyn today, Governor David Paterson tried putting to rest the notion that he's undecided about who he's supporting for mayor.
He marched with Democratic candidate Bill Thompson as members of the Transport Workers Union carried signs like that showed a giant Michael Bloomberg terrorizing tiny poor citizens of New York.
Pictured above is outgoing TWU president Roger Toussaint and Paterson's bodyman, David Johnson, directing people carrying one such sign. At one point, Paterson, Thompson and others ran up to paradegoers on either side of Eastern Parkway, showing photographers, television cameramen and reporters that both had lots of support from people along the route.
At one point, one woman in a TWU shirt yelled into a bullhorn that Paterson "supports" Thompson for mayor.
UPDATE: Paterson told reporters at the parade "I just have to wait for the Democratic primary to be over because those candidates are both members of the same party, and like a minute after the primary's over I'll be ready to endorse."
When asked if he'll be endorsing the winner, Paterson replied, "I rather expect to."